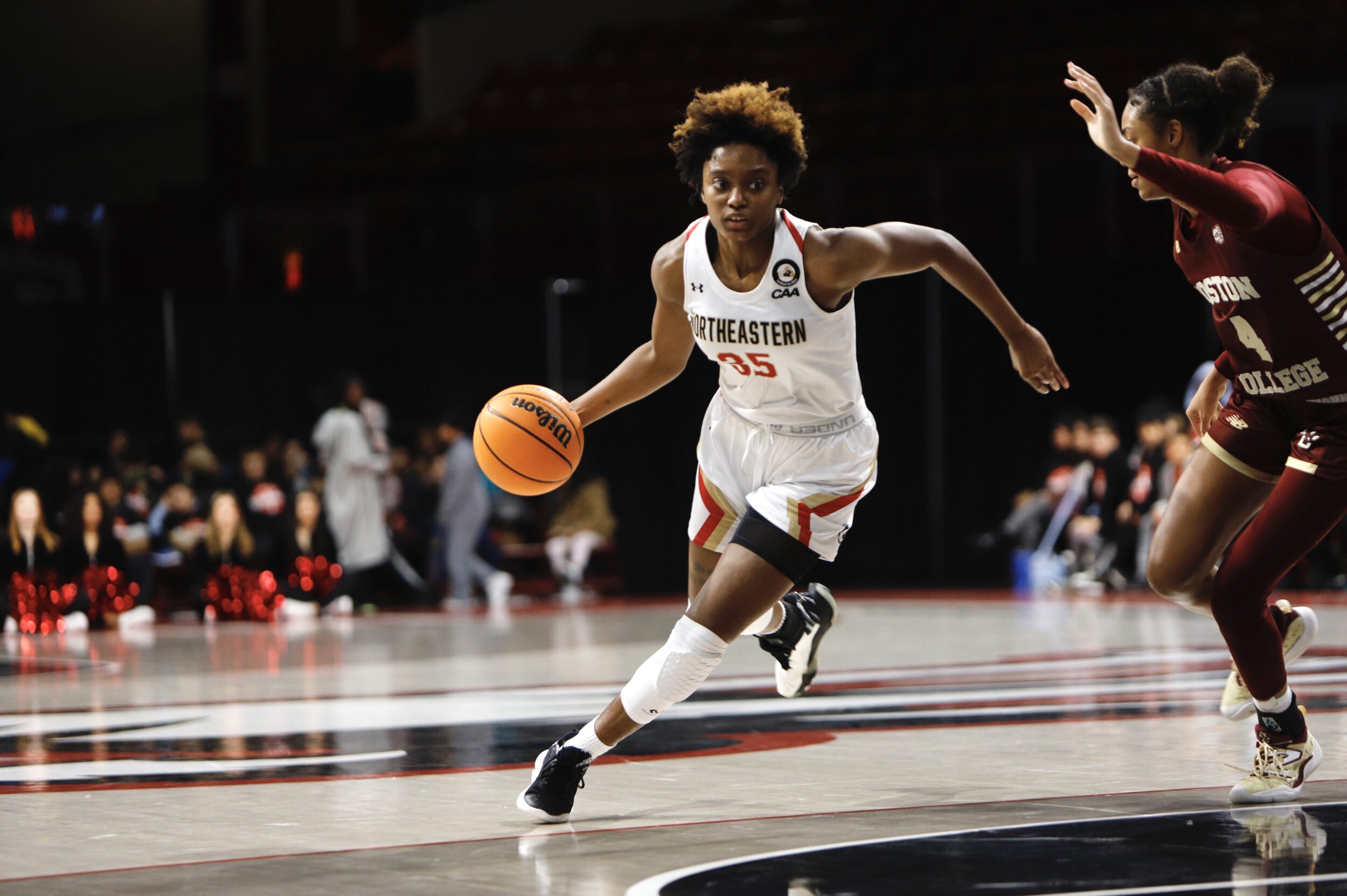 BOSTON — When you have carbon and put pressure on it, diamonds are formed. In basketball, when you have a team that doesn't play well fast and you put pressure on it, you get turnovers and easy buckets.
That's exactly what the Northeastern Huskies did in their 71-57 win over the William & Mary Tribe on Sunday afternoon, as they ballooned a 26-25 halftime lead into a 53-41 lead entering the fourth quarter, with the Huskies forcing six turnovers and shooting 8-of-13 (62%) in a pivotal third frame.
"Defense fires our team up, right?" said Northeastern head coach Bridgette Mitchell. "Our defense gets us going and so I wanted to start sooner rather than later with our press."
No one benefited more from the press than junior forward Halle Idowu, who led all scorers with a career-high 19 points and also grabbed 10 rebounds. Her defense was just as impressive as her offense, as time and time again she tipped passes and even picked the pocket of William & Mary graduate student guard Sydney Wagner for her third steal.
Fellow forward Deja Bristol had her best game of the season as well, as the junior transfer had a double-double with 14 points and 11 rebounds, both career highs for the former Virginia player.
Bristol scored 10 first-half points that kept the Huskies in it when they were struggling from beyond the arc (1-of-8) early on, and Idowu carried the effort between the blocks in the second half with 12 of her total coming after the break.
"Deja and Halle both leading us with double-doubles, that was great," Mitchell said. "Great for the confidence of our team, bouncing back after playing Monmouth at their place."
Not only did the Huskies bounce back from a 54-49 loss to Monmouth on Thursday, they also had to bounce back from a shaky first half in which they turned the ball over 15 times.
A buzzer-beater three from graduate student guard Derin Erdogan gave the Huskies a 26-25 at halftime, but up to that point the offense had some trouble getting going. They finished the game with 26 turnovers, however their rebounding made up for the lost possessions, as Northeastern held an absurd advantage of 50-26 on the glass.
Those rebounds and forcing eight second-half turnovers turned the tide in the favor of the Red and Black, and they pounded the ball inside for 20 points in the paint and 56% shooting in the second half.
"I'm really proud of the way our team responded," Mitchell said, "and played together as a team. We set out to play inside and out and we did tonight."
Mitchell looked somewhat frustrated with the first half performance but put on a coaching masterclass after the break, inserting Idowu and using the Huskies' height to press and hamper the Tribe's guards. It became a difficult effort for the Tribe to get past halfcourt at times, and when they did, they could only manage a tough jump shot or a heavily contested layup down low.
The Tribe can usually count on Wagner and fellow star graduate student guard Riley Casey, but the Huskies did a fantastic job of limiting the backcourt battery, as Casey was 5-of-14 for 14 points and Wagner finished the day 3-of-12 for 12 points. Considering that in the Tribe's win over Northeastern last season, the two combined for 50 points, this was a win for the Huskies' defense.
"We really just wanted to limit their touches as much as we possibly could," said Mitchell. Mitchell has known Casey since the early days of the guard's playing career and said that she "really wanted to shut her down.".
The Huskies' guard play on the other side was not as dominant as it usually is, although there were impressive flashes from Erdogan, whose vision and passing set up multiple easy buckets for her teammates, and sophomore Gemima Motema, who had a tough time with turnovers but was impressive on the defensive end.
Northeastern was also helped by the second appearance of senior guard Jaelyn Batts. Batts scored eight points, had five assists, blocked a shot and provided some swagger as she stared down the Tribe after the rejection.
"[She's] the juice. That's her role — to bring the energy," Mitchell said. "Her length disrupts things and when Jaelyn is with us, we're glad…we're really excited about her and how she fits in the dynamics with our team."
The Huskies earned their first CAA win and continued a five-game streak of beating William & Mary at home, dating back to 2017.
WRBB will have exclusive radio coverage of the Huskies' next matchup with UNC Wilmington on Sunday, Jan. 8 with tip off at 1 p.m..