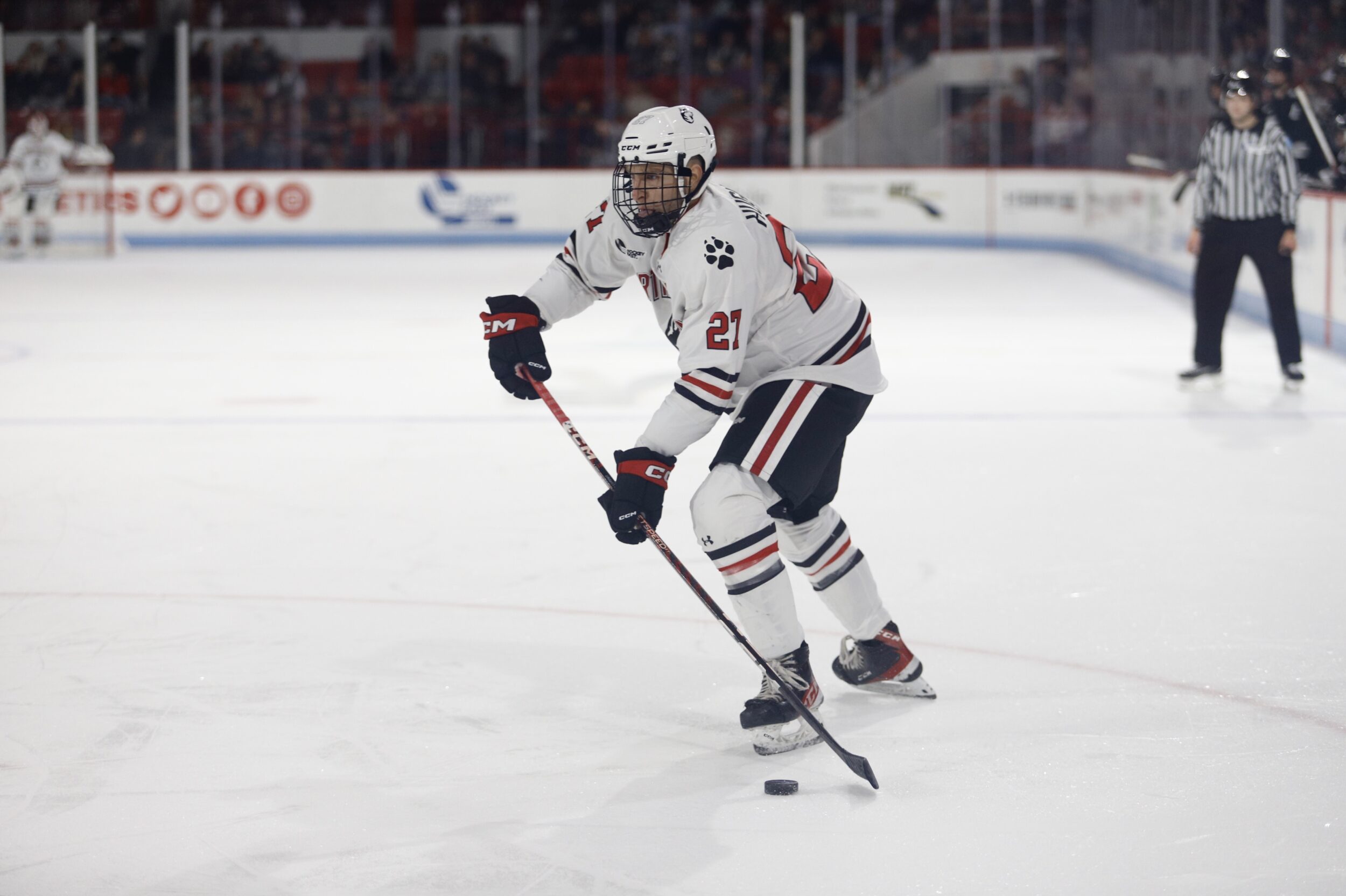 CAMBRIDGE — Despite the best offensive performance Northeastern has mustered against a top-10 team, poor defense and a third period collapse led to the Huskies' 8-4 defeat by Harvard.
The Crimson started the season 4-0 at home before eight away games, and in their Sunday afternoon homecoming, retained a perfect record at Bright-Landry. Northeastern is now up to seven consecutive games without a regulation win, and the Huskies continued to start a difficult second half schedule on a bad foot.
While control was even between teams throughout the first five minutes, by the 10-minute mark Harvard had buried two goals on six shots.
The first came from sophomore forward Alex Gaffney, who shot in a backhanded pass from junior linemate Alex Laferriere right before he was taken down behind the goal by freshman defender Hunter McDonald.
Just 1:22 later, forward Ryan Drkulec tallied his first NCAA goal, another tip, this time on a shot from the blue line by senior defender Ryan Siedem. Drkulec was playing in his first game of the season and just the fifth of his career.
After Harvard's two goals, Northeastern picked up their skates and got momentum back on their side. The Huskies had nine consecutive shots on goal, but the nation's save percentage leader, senior Mitchell Gibson, stayed strong in net.
In the final minute of the first period, a slashing call on graduate student forward Jakov Novak negated all of the Huskies' momentum. While Harvard's stellar 25% power play wasn't looking as impressive as usual, with sloppy turnovers and fanned passes, the player advantage gave the Crimson a jolt of energy, as they had been without a shot for over seven minutes after the Drkulec goal.
Starting the second period on the remaining minute of Novak's penalty, Harvard dominated control of the puck, registering five shots to Northeastern's zero, then the sixth shot going in. Freshman Joe Miller tallied his fifth of the season 25 seconds after their power play expired.
Down 3-0, Northeastern seemed to sense the urgency to score. Sophomore Jack Hughes managed to get the puck to linemate Gunnarwolfe Fontaine. The junior then fired a wrister past Gibson's right side. His tally gave the Huskies life, as senior forward Aidan McDonough added a second goal just 1:41 after.
Officials called matching roughing penalties to senior defender Tyler Spott and Laferriere at 8:50, and an extra boarding call on Laferriere put Northeastern on the power play. Harvard's penalty kill came into the game ranked No. 6 nationally — scoring more shorthanded goals than opponents had on the power play — yet McDonough scored his sixth power play goal of the season just 15 seconds into the advantage. Fontaine found the captain in his right faceoff circle wheelhouse, and he cut the deficit to one.
Five minutes later, a forecheck by Spott caused a Harvard turnover, and McDonough picked up the puck, passing it up ice to sophomore Matt Choupani. The forward was alone in front of two Harvard defenders, and he fired the puck past Gibson's right side to tie the game at three.
Northeastern's collapse started soon after that. Freshman forward Casey Severo deflected Laferriere's shot in to regain the lead on the first Crimson shot on goal since Choupani's tally. Miller potted his second of the night two minutes later, flicking in a pretty pass from linemate Matthew Coronato to end the period.
Despite the D corps being fully healthy, having regained senior Jeremie Bucheler and Spott for the game against Bentley, it was an overall poor performance from the defense. No defender registered a block by the end of the second period, all six through 40 minutes were blocked by forwards. While junior Devon Levi's save percentage in this game ended at .765, he was in no way solely responsible for the Huskies' four-goal loss. There was sloppy defending all over the ice, especially in front of his net.
While the third period couldn't compare in energy to the six-goal second, Laferriere scored 1:16 in, and the Huskies continued their fall since the game-tying goal. Harvard's highly-touted power play got a second chance when junior Sam Colangelo was called for boarding after laying a hit on forward Austin Wong. The Crimson converted, with freshman forward Philip Tresca tallying his first career goal.
Out of the box less than a minute later, Colangelo got Hughes the puck, then tied up defender Christian Jimenez by the boards to get Hughes alone. Hughes, who had previously attempted a lacrosse goal multiple times in his NCAA career, finally succeeded when he was left solo behind the net. Defender Jack Bar tried to bat down his stick, but the puck had already been tossed in.
While Hughes' goal didn't lead to any goal-scoring momentum, it kept Levi between the pipes. Prior to his goal, Levi was pulled in favor of freshman Grant Riley. That lasted all of 20 seconds, as head coach Jerry Keefe opted to slot Levi in again once the deficit was cut to three. Harvard had 10 shots on goal after Levi was put back in, and he undoubtedly let up the least amount of goals with the caliber of those shots.
With 4:38 left to play, Laferriere closed out Harvard's scoring with a stunning goal, dangling the puck one-handed, before flipping it above Levi on the backhand. Spott was right beside Laferriere as he drove to the net, but couldn't quite do enough to stop the shot. The Kings third-rounder had two goals and two primary assists on the night, with his line tallying a combined 11 points.
Sunday's matchup showed what Northeastern's offense can be at its best, but the defense couldn't keep up. A talented team on paper, with 12 NHL draftees playing to Harvard's 11, they need to learn to put the pieces together for a full 60 minutes. The schedule won't get any easier in the coming weeks, so finding a way to perform consistently against high-level opponents is imperative.
Northeastern will face UConn on Saturday for the first game of the Frozen Fenway doubleheader. Khalin Kapoor and Emma Sullivan will have coverage live for WRBB ahead of the 2:30 p.m. puck drop.