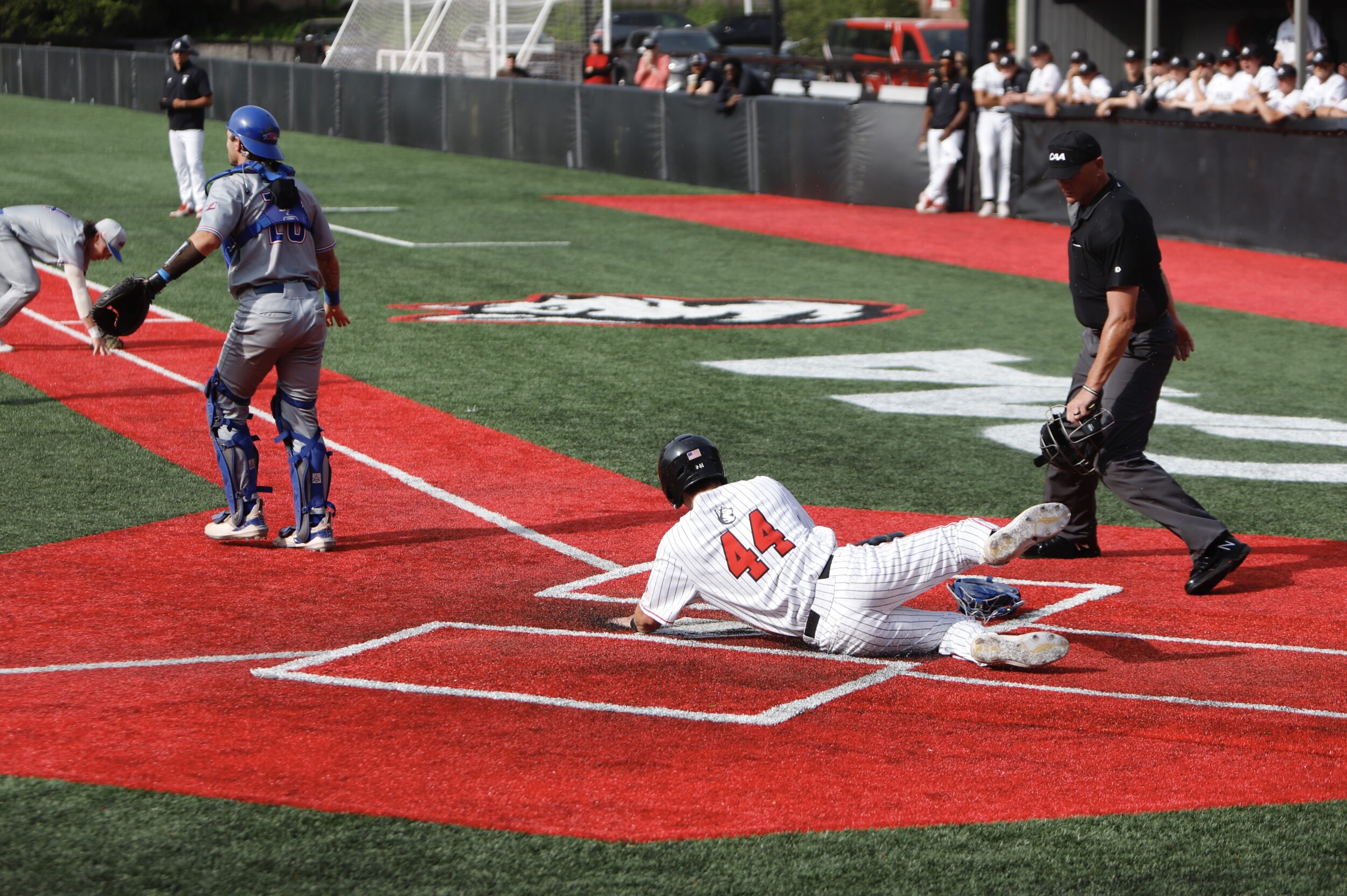 By Jack Sinclair and Daisy Roberts
WINSTON-SALEM, N.C. — After a historic season, Northeastern's journey in the NCAA Tournament came to an end after a heartbreaking 11-3 loss to George Mason on Saturday. The No. 4 Patriots jumped ahead early and stayed there, eliminating the Huskies from national contention.
George Mason started the scoring in the top of the first inning, with senior phenom South Trimble hitting a leadoff single. Trimble then advanced to second on a wild pitch from Northeastern freshman righty Aiven Cabral, before making his way to third and across home plate on back-to-back fielder's choice plays. It was a testament to the gritty, chaotic base-running strategy that the Patriots had employed all season.
"They grinded out at-bats and had some big hits," said Northeastern head coach Mike Glavine following the game. "You've got to give them credit."
After a quiet second inning, the Huskies came out swinging in the bottom of the third. Senior shortstop Spenser Smith turned on the first pitch of the inning over the short right-field wall at David F. Couch Ballpark to tie the game at one.
The Patriots did not stay down for long, though, with Cabral struggling in the top of the fourth. After allowing back-to-back singles to sophomores Connor Dykstra and Reece Woody and a walk to senior Brett Stallings to load the bases, sophomore Alex Knapp hit into a fielder's choice to bring Dykstra home and give the Patriots the lead.
Knapp went on to swipe second base, and he and Woody then came across to score on a two-RBI single off the bat of freshman infielder Evan Blanchard, putting George Mason up 4-1.
Cabral's day was done after four innings of work, and graduate student Griffin Young, Northeastern's typical closer, came on in relief. After working a quick fifth inning, Young got himself into a sticky situation in the sixth, with a single by Woody and a walk by Knapp putting runners on first and second. Blanchard hit another RBI single, followed by an RBI double from Carsen Pracht which brought three runs across to score, extending George Mason's lead to 7-1.
Pracht broke through again for the Patriots in the top of the eighth inning, bringing home Knapp with an RBI single off graduate student Jordy Allard to increase the lead to 8-1.
After being held to just one run by George Mason sophomore starter Chad Gartland, Northeastern finally began to show some life in their bats, with senior designated hitter Alex Lane sending a no-doubt home run over the left-field wall to cut Northeastern's deficit to six runs in the bottom of the eighth inning.
George Mason was not finished offensively, though, tacking on a few more runs in the top of the ninth. After redshirt junior James Quinlivan gave up a walk and a hit-by-pitch to start off the inning, Knapp worked a two-out walk to load the bases and bring Blanchard up to the plate. The freshman put together a very solid at-bat and drew a walk to score a run. Pracht then followed up with a two-RBI single to make it an 11-2 game.
With nine runs to make up and three outs to go, Northeastern needed to start the bottom of the ninth strong. They did just that, with redshirt freshman outfielder Harrison Feinberg ripping a home run to left field off Gartland. But the Patriots' starter was not fazed in the slightest, recording three quick outs to secure the 11-3 victory for George Mason, ending the Huskies' season.
"We didn't play great," Glavine said. "We just didn't play the way we're capable of."
Gartland was a star on the mound for the Patriots, pitching a complete nine innings while allowing just three runs on seven hits and totaling 128 pitches without showing any signs of fatigue. It was his effort that propelled George Mason's momentum, keeping their hopes of advancing in the Winston-Salem Regional alive.
Despite the loss, Glavine was optimistic about Northeastern's upward trajectory following the momentum of the 2023 season.
"I feel like the future is bright," he said. "We return a lot of guys, both offensively and on the mound. Our pitching staff is going to look a little different next year… but we return a lot, so there's no reason why – once you get over this hump, you take the summer off – we can't do this again. There's certainly no reason why we can't be a really talented team next year."
The loss eliminates Northeastern from the Winston-Salem Regional and ends their season. WRBB will provide offseason updates when information on the future of the Huskies' roster is made available.