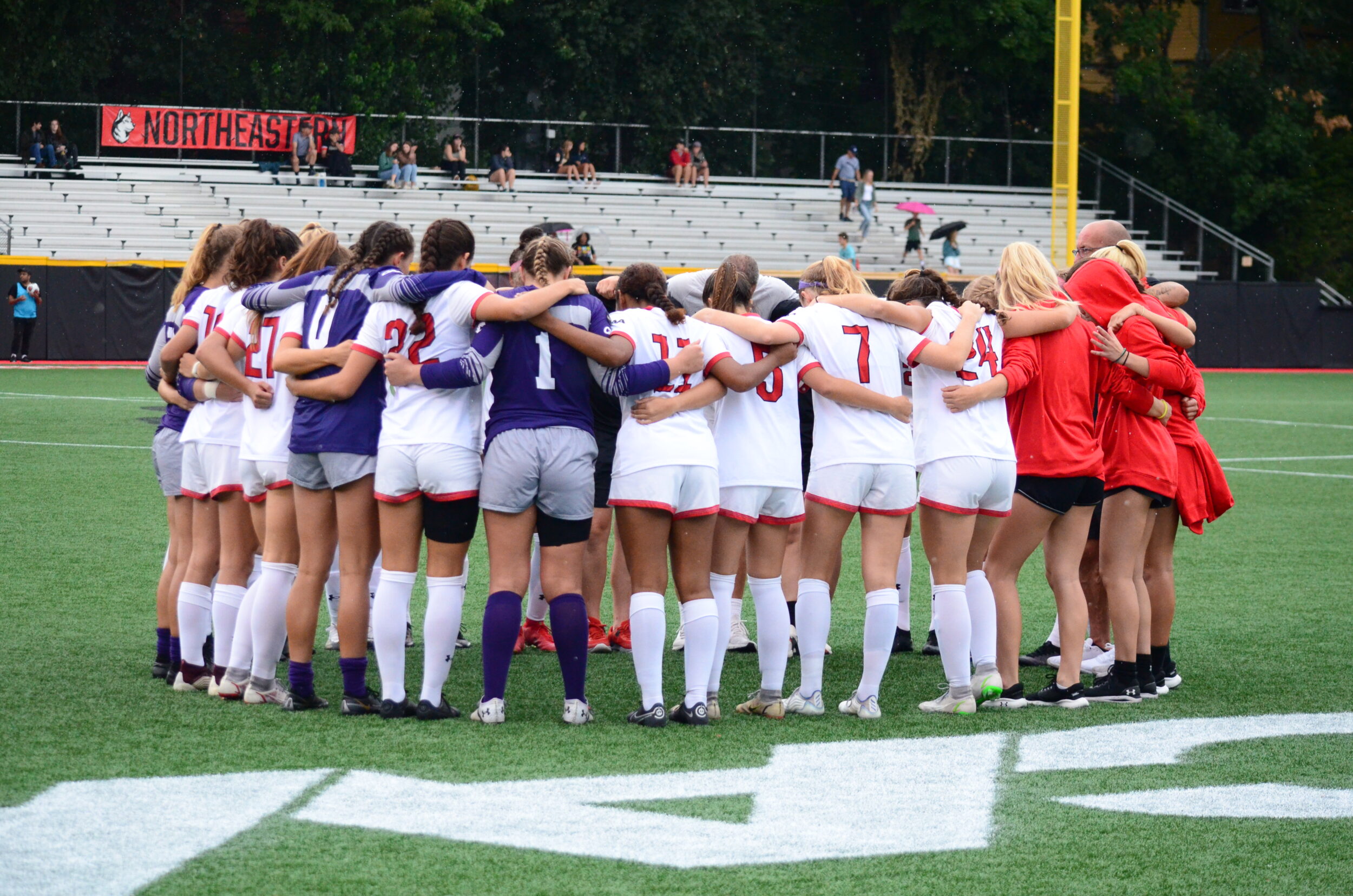 Northeastern head coach Ashley Phillips couldn't have asked for a better performance from her group of newcomers last season. She brought in two Power-Five transfers in midfielder Jessie Hunt and goalkeeper Holland Stam, who both started every game for the Huskies. Hunt also set the program's record for single-season assists with 13, and earned All-CAA First Team honors. Stam made the conference third team.
The rookie class also impressed last season, led by CAA Rookie of the Year Vivian Akyirem whose 13 goals were second most ever by a Northeastern player in a single season. Other impressive freshmen players included midfielders Lauren Dupont and Ava Nace. Last year, Nace provided some late game dramatics, netting the lone goal in the 87th minute of Northeastern's win over UConn.
While the Huskies are returning many of their core players like Hunt, Stam, Akyirem, and All-CAA Second Teamer Alexis Legowski, they still have several holes to fill in the starting lineup. Nina and Porter Dooley both graduated, leaving gaps up top and in the central midfield, and Sydney Fisher and Jane Kaull will both need to be replaced in Northeastern's back line.
Freshmen
Eliza Teplow: Goalkeeper, Wellesley, Massachusetts
During her high school career, Teplow was one of the best prep goalkeepers in the Commonwealth. Over her four years at Wellesley, Teplow earned both All-State and USSC All-Region honors. While she most likely won't start with Stam returning for a final season, she does have the potential to be Northeastern's goalkeeper of the future, and may be the team's top backup this season.
Maddie Aughe: Defender, Hingham, Massachusetts
After captaining Hingham High School to a state championship as a senior, Aughe has a chance to make a difference for another title team this fall. The defender played 12 years of soccer for South Shore Select and was on the team that won NPL National Championship in 2019. For the Huskies, she'll provide some insurance on the backline. Last year, both Faith Rosenblatt and Sabrina Araujo-Elorza missed time due to various injuries. Aughe should be able to step in for either if health becomes a problem again this season.
Juliana Garcia: Midfielder/Forward, New Haven, Connecticut
During both of her years at the Sacred Heart Academy, Garcia was named to the All-State team. Garcia earned those selections with her elite scoring talent. As a junior, the Colombia native scored 20 goals and registered eight assists. In her first eight games as a senior, she netted 10 goals.. This season, she could start as an attacking midfielder for the Huskies, further enhancing Akyirem's chances on net and should allow Legowski and Hunt to flow higher up the pitch. Garcia's experience as both a midfielder and forward in the center of the field will provide plenty of dangerous options for Phillips and the Northeastern coaching staff.
Catrina Herman: Defender, Cohasset, Massachusetts
Herman was Aughe's teammate on South Shore Select and dominated the South Shore League in her three years with Cohasset High School. As a Skipper, Herman was named to three South Shore All-Star teams and was named the league MVP in 2020. Herman will most likely compete with Aughe for reserve defender minutes. The duo has the potential to lead the way for Northeastern's defense in a year or two down the road.
Shannon Anderson: Forward, Milford, Connecticut
As a senior, Anderson was named Cheshire Academy's MVP and earned an All-State selection after leading the team in scoring. While it's unclear if she'll start right away for the Huskies, she does enter the season as the team's tallest outfield player at 5-foot-10. Even if it's just as a substitute on set pieces, Anderson does have the potential to boost Northeastern's goal scoring as a freshman.
Maya Berndt: Midfielder, Parkland, Florida
Berndt, the only Northeastern freshman not from New England, brings plenty of club and international experience with her to Boston. The midfielder played seven years for the Florida United Girls Academy and recently was named captain of the Puerto Rican Youth National Team.
Transfers
Addison Davis: Graduate student defender, Bristol, Connecticut
In her last full season with Assumption College in 2021, Davis was named to the Northeast-10 All-Conference First Team and the All-East Region Second Team. Last year however, Davis lost her entire senior season to an injury. Davis now has a great opportunity to start in Northeastern's back line from day one and can fill right in for Kaull in central defense while contributing some playmaking. In her 27 games with the Greyhounds, Davis recorded three assists.
Sofie Fox: Graduate student forward, Williamsburg, Virginia
Fox spent the last four years as a reserve forward for the Hoyas, the top program in the Big East. In her career, the graduate student made 66 appearances, including seven in NCAA tournament games. While Fox never earned a full-time spot in the starting XI, she did make four starts over her career and made her reserve appearances count. In total, Fox netted six goals in her four years at Georgetown, including three in 2020. This year, Fox should get an opportunity to replace Nina Dooley as a starting forward for the Huskies. If Phillips opts to start some of her longer tenured forwards like Rose Kaefer and Megan Putvinski, Fox will be a valuable addition to the bench through both her scoring and tournament experience.
Phillips nailed the transfer portal for the second year in a row while also adding impressive depth with this season's freshmen group. Davis and Aughe should be able to boost Northeastern's defense from day one, while Fox and Garcia can help take away attention from Akyirem in the team's attack.
With this group of newcomers joining the remains of last year's roster, the Huskies have a serious chance of claiming the CAA title and making a run in the national tournament.