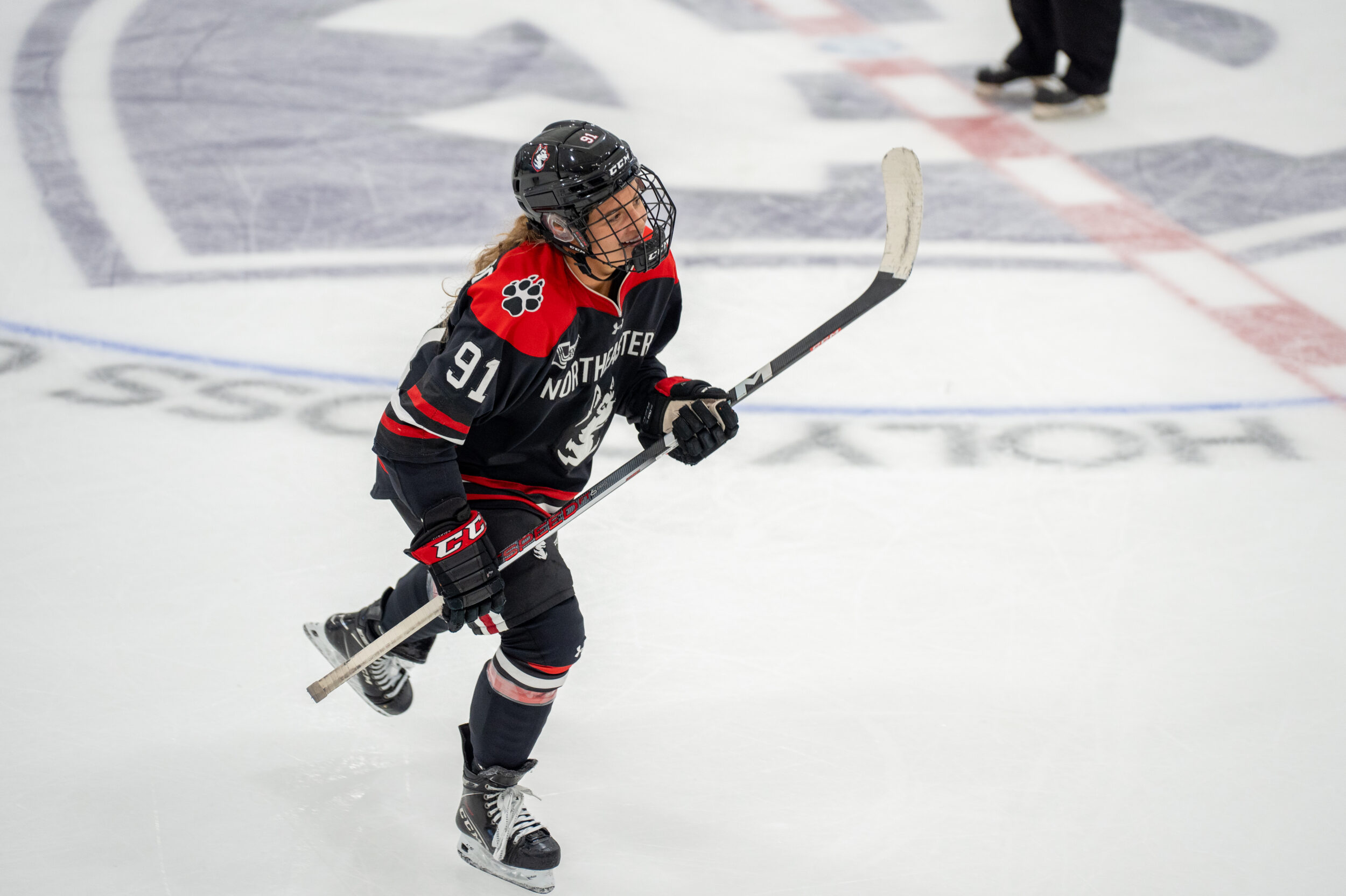 When the dust settles on Northeastern's season five months from now, few will think back to Saturday's victory against an inferior Holy Cross squad, staged at the echo-filled Hart Center.
But after getting shutout in three of their past four games — including against this same Crusaders opponent one night earlier — the Huskies needed something to get their season back on track, even as the offense continued to struggle scoring the puck.
With Northeastern's back against the wall, graduate senior Peyton Anderson took matters into her own hands.
Led by Anderson's first-career hat trick, the Huskies rebounded for a 4-2 victory over Holy Cross on Saturday. Anderson's individual efforts salvaged what could have been a disastrous early-season sweep for Northeastern, and buys the offense another week to get in sync while not further damaging their prospects in Pairwise or the Hockey East standings.
"Obviously we're still working on it as a team, just to get the puck in the back of the net and finish," Anderson said. "So it felt good to come out today with four goals and leave here with the team win."
Northeastern dominated possession time and shots throughout Saturday's contest, outshooting the Crusaders 37-12 and generating over 11 minutes of power play time. But as has been the case all season with the Huskies' new-look top forward group, extensive O-zone advantage and transition rushes have rarely translated into the scoring column — a new reality the team must overcome with increased precision.
"The important thing that we need to understand is that we need to earn everything. We don't have the usual suspects that we relied on for the past five years. Not to say that we didn't have to earn it when they were here, but we had that safety net," said associate head coach Nick Carpenito. "So it's very exciting to see someone like Peyton Anderson step up."
The Huskies came out of the gates outshooting Holy Cross 19-4 in the first period, and senior defender Lily Yovetich finally broke the ice with her first-career collegiate goal with three minutes remaining in the frame. However, the Crusaders drew a hooking penalty on Anderson soon after the Huskies' opening score, and evened the game with a power-play goal on just their third shot attempt.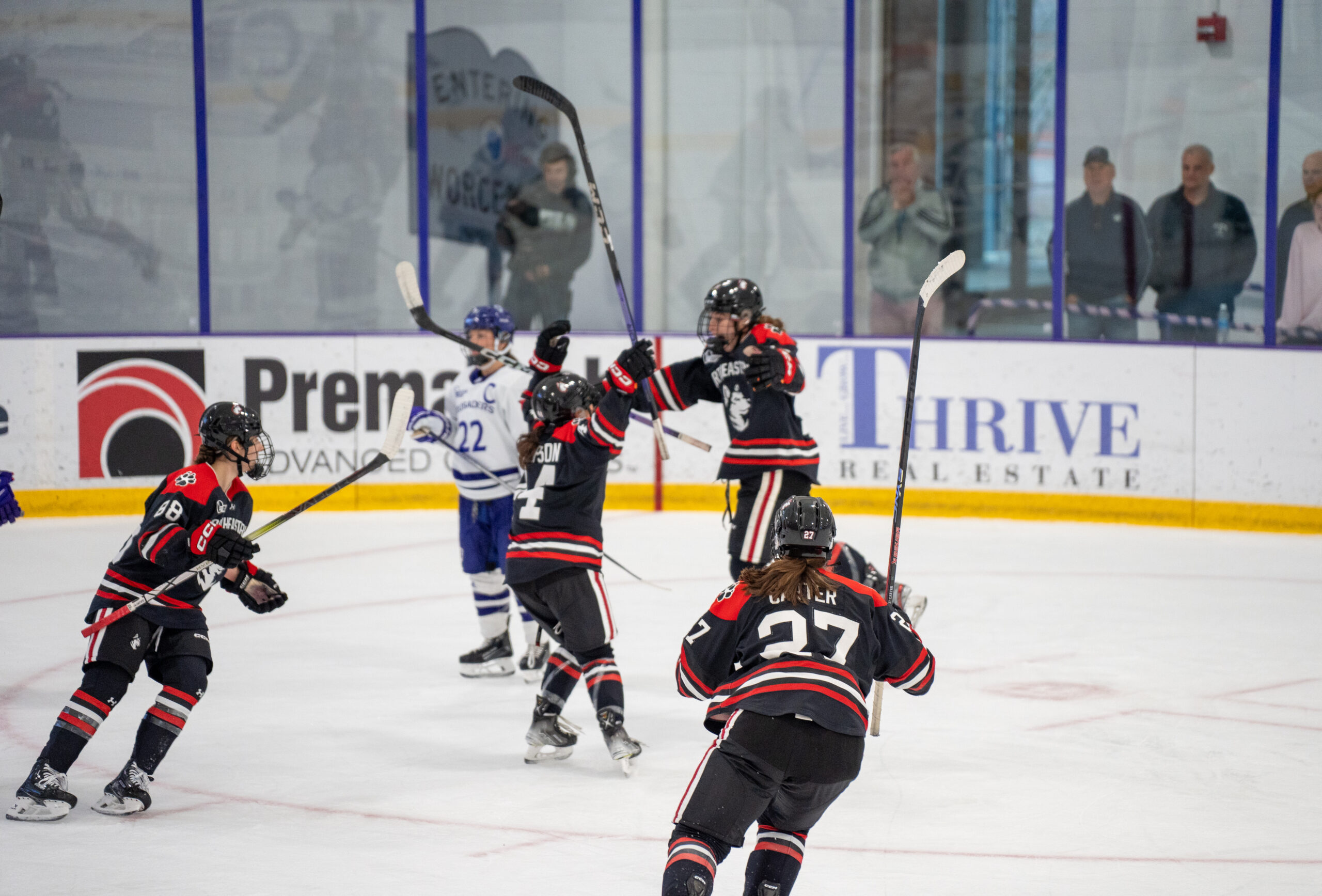 With Northeastern's endless transition rushes, cycles, and shots from the blue line resulting in minuscule results, Anderson plotted the Huskies' second goal on a magnificent individual effort. She spun around Crusaders defender Grace Johnson behind the net, while faking out goaltender Madison Beck and beating her to the near-side post.
"That was a tough one," Anderson said. "Usually the goalie is able to make a good play. I think I just got kind of lucky that [Beck] went for it."
After the Crusaders tied up the game at 2-2 just three minutes later in the second period, Holy Cross began doing a better job sealing gaps in transition and holding onto the puck. Holy Cross forward Alexia Moreau was assessed a five minute major and ejection for a hit to behind with 34 seconds left in the second period, but nothing came of it for Northeastern.
Anderson again broke the deadlock with under six minutes remaining in regulation, this time after an outstanding individual effort to break loose in transition and snipe a clean goal past Beck. Then, four minutes later, she finished things off with an empty net goal to seal the Huskies victory.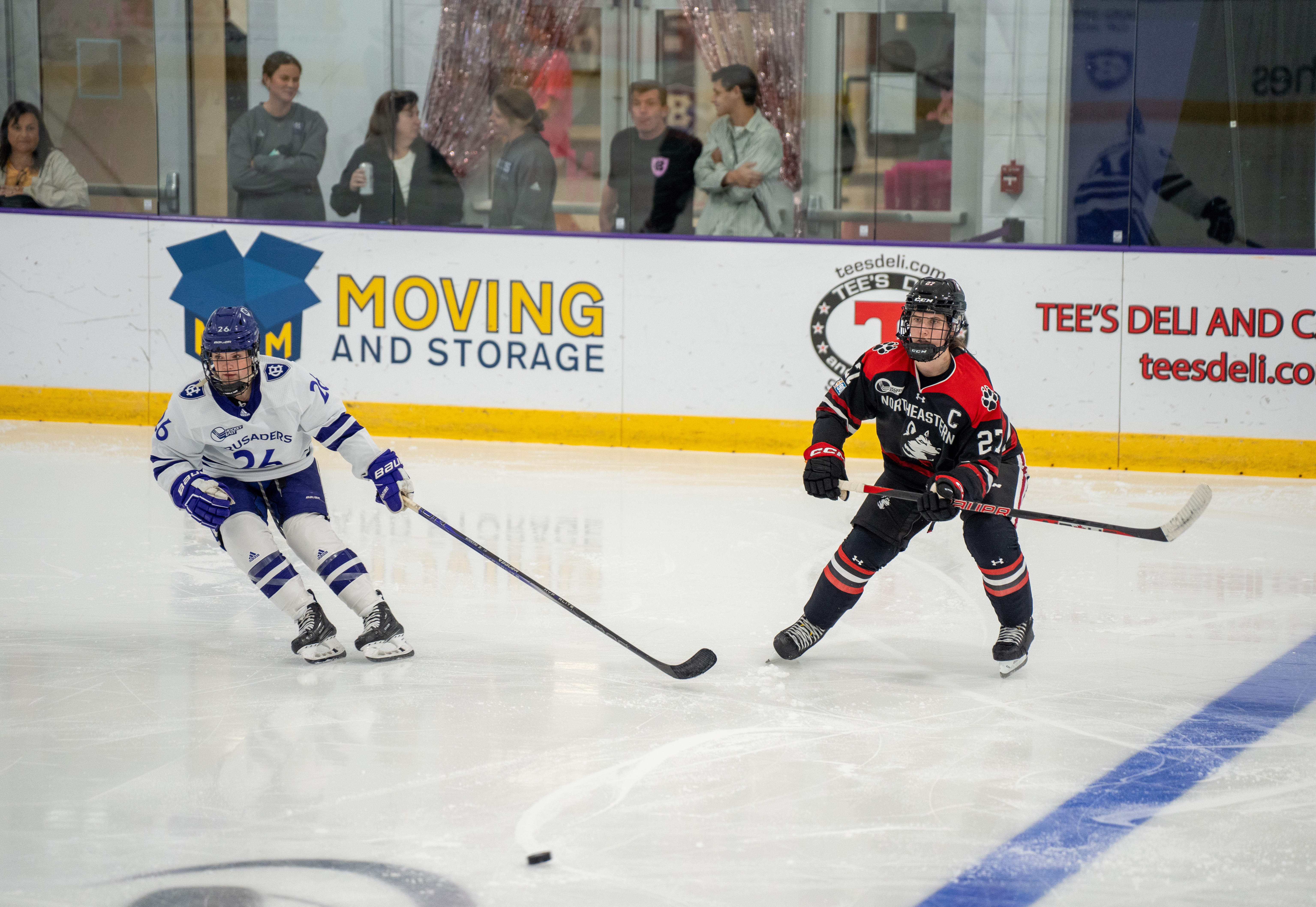 While Anderson's individual heroics provided Northeastern a stabilizing victory, the offense must find a way to convert on their chances at both 5v5 and the power play — the coaching staff installed a new set last week on the man advantage, and the players were working through it this weekend.
Megan Carter continues to bomb away shots from the blue line, and now has 75 total shot attempts through the team's first 10 games, with 31 reaching the net. But while the Huskies are relying on her to create from the O-zone, those shots are often either not hitting to the sticks of her forwards, or the forwards are not picking up the puck off rebounds or the back wall to generate in-tight chances.
"We rely on [Carter] to create offense. But we need to do a good job getting bodies to the net with our sticks down," Carpentio said. "I think at times, she could do more to look for sticks as opposed to just getting the puck on net. But it's just something we got to keep hammering away at, because it's a little bit different approach than we've had in the past."
As the offensive struggles continue to pile up for Northeastern's veteran forwards, the coaching staff continue to emphasize finishing drills and netfront scoring in practice. Statistically, the Huskies process indicates better results are ahead: The Huskies' 6.9% team shooting percentage is second-worst in Hockey East, despite their 57.3% Corsi-For percentage (ratio of total shot attempts/total shots allowed) sitting at second-best in the league. Mending that gap is where the Huskies' players and staff has their work cut out for them.
"I think it's more mental than anything," Carpentio said. "There are some players that haven't produced as much as they typically do, so they're gripping their sticks a little bit. You know, when they get opportunities like that, they just can't finish. And they're capable. A lot of the confidence that you build it comes throughout the week, so we'll work on stuff like that."
But while Northeastern's performance on Saturday left plenty to work on, Anderson's individual efforts mean the Huskies can address those issues without the pressure of rebounding from yet another disappointing loss. And once this team does find its footing, it's these early-season victories that will come to mean so much more.
Northeastern returns to action on Friday, when the host UConn at Matthews Arena. Emma Sullivan, Khalin Kapoor, and Breanna Adel will be on the call for WRBB Sports at 6 p.m.