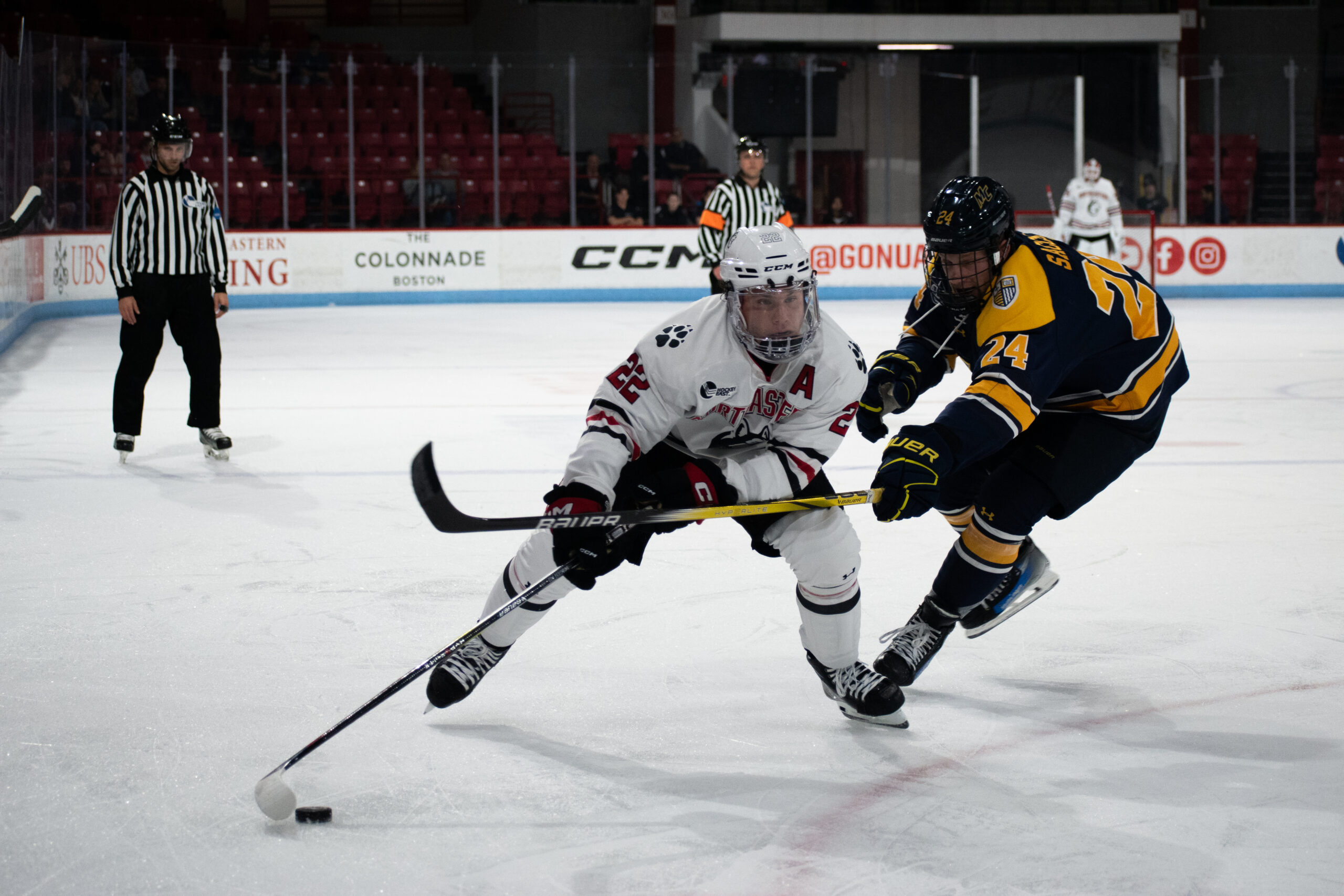 After a disappointing loss on the road to New Hampshire on Thursday, Northeastern fell short 4-1 yet again Saturday in its second conference contest this season against Merrimack — the Huskies' first loss to the Warriors since 2019.
After clean group-effort wins against Stonehill and Bentley to open the season, the Huskies struggled to find a rhythm in their first two regular-season tests against better competition. Missing star center Justin Hryckowian and key defenders Hunter McDonald and Jackson Dorrington due to injury also played a role in their team-wide slump.
That being said, the Huskies are no strangers to adversity. Just last season the team grappled with numerous injuries of veteran players that prevented play with a fully healthy roster until the latter half of the year, forcing the freshmen and newcomers to fill in those holes — and the same applies now.
"It was good to get [Billy] Norcross back in there tonight because I thought he made a difference in the game. He played hard, he competed," said head coach Jerry Keefe. "I thought [Michael Outzen]'s line was good for us tonight, so that was one positive. I thought those guys did a good job. Good players, obviously, that we're missing, but we have good players that are in our lineup."
Out of the gates period one, Merrimack had the upper hand over Northeastern.
Despite maintaining possession in the offensive zone and tallying more attempted shots, the Huskies couldn't deter the Warriors from creating quality scoring chances and, naturally, more of them. While Northeastern's strategy relied mostly on scrappy rebound attempts from the goal line, Merrimack's dominance stemmed from 1-2-3 passing and hard shots on net, testing freshman goaltender Cameron Whitehead more frequently and from harder angles than the Huskies did of Merrimack senior goaltender Zachary Borgiel.
It didn't take long for Merrimack to capitalize on those opportunities. Sophomore defender Zach Bookman buried the Warriors' 10th shot on goal on a wide open left pocket after a seamless cross-crease setup by junior forward Matt Copponi.
Northeastern held Merrimack to one goal to finish out a very fast-paced first frame with minimal stoppage of play, but the one-goal game was short lived.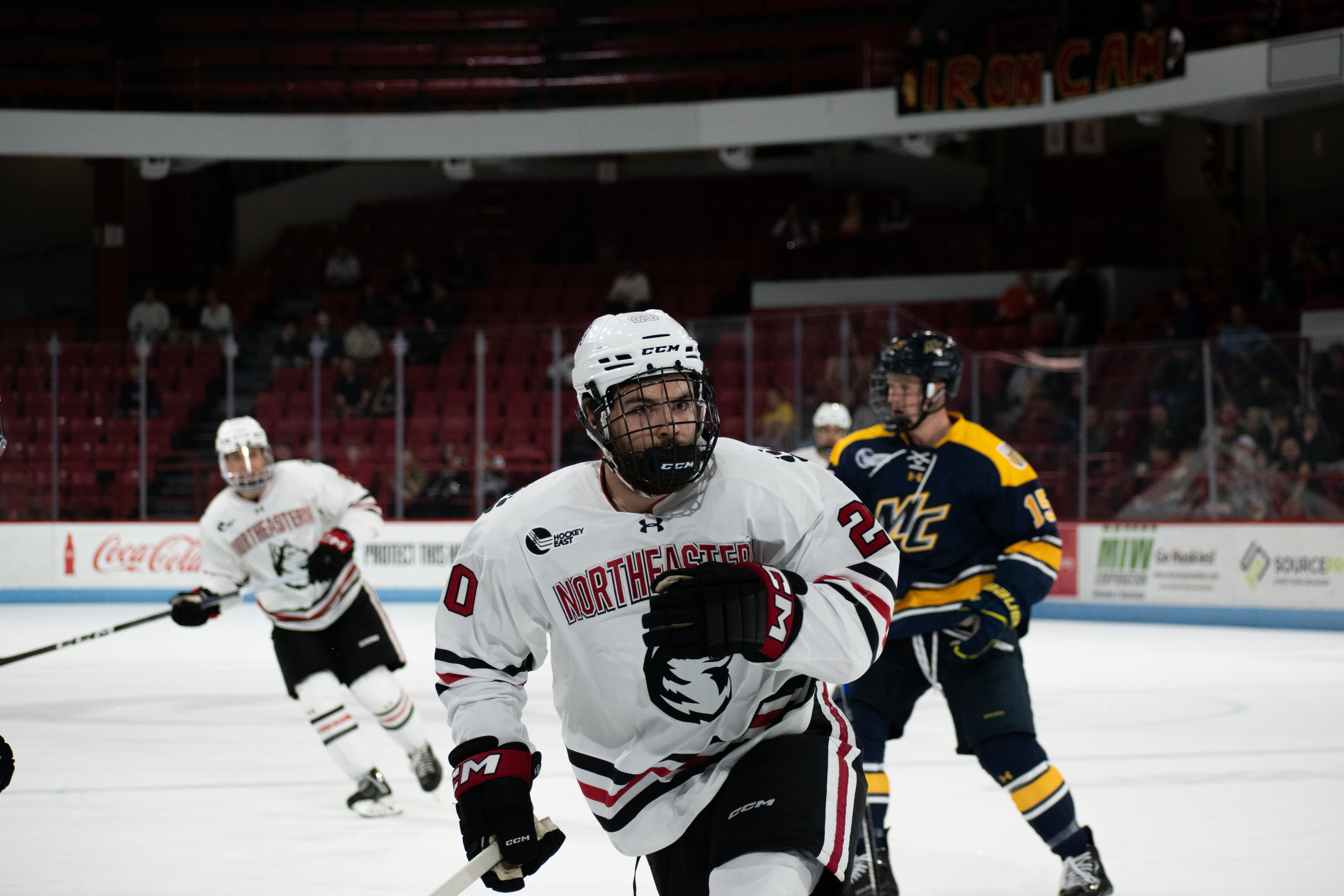 The Warriors came out of intermission eager and 2:46 into the second period, graduate defender Liam Dennison struck one post-and-in from the blue line to put Merrimack up 2-0.
"You got to go out and fight for your ice and have a second effort to your game," Keefe said. "It kind of felt like when it was 2-0 like, 'Oof, it's going to be tough here.' It took everything just to find a way and get a bounce to get one goal tonight, so we're fighting it right now."
At this point, the Huskies were in desperate need of a momentum shift and were given the opportunity with the first power play of the game at 16:02. However Northeastern saw minimal sustained zone time or shots, and messy control of the blue line led to shorthanded chances for Merrimack.
The Huskies saw more quality scoring opportunities for their second power play shortly thereafter at 13:37 — one standout example by freshman forward Dylan Hryckowian on the left post early on in the minor — but weren't able to redeem themselves with a goal by the Warriors 92% PK holding them at bay.
The third period started out no different, with a third unanswered goal by Merrimack almost eight minutes in, tripling the Warriors lead. At 7:55, junior forward Michael Citara roofed the puck nearside over Whitehead for a 3-0 game.
The Warriors' third goal didn't ignite any sparks in the Huskies' squad as they continued to play the same — tallying shots but unable to test Borgiel and put anything past him.
That is, until 10:41 when an attempt by graduate forward Brett Edwards from the left faceoff circle slid under a sea of Warriors and Borgiel, putting Northeastern on the board with his first goal as a Husky in his 100th career game.
"It was good that 'Eddy' got one," Keefe said of the late score. "I think [he]'s going to be a big part of this team. He'll have a big say in us having success this year because of the type of kid he is, [and] his details."
Edwards' goal rejuvenated the Huskies as they scrambled to change the course of the game in the remaining minutes, even at 6v5 after Whitehead was pulled. The best chance following was generated by freshman defender Michael Fisher who almost got the job done, but Borgiel was in position for the stop.
Merrimack quickly shut down Northeastern's confidence boost and solidified their 4-1 victory with an unassisted empty-netter by Citara at 18:18 for his second of the game.
While new faces on the team like Pito Walton and Dylan Hryckowian have been difference makers for the Huskies thus far, it takes the whole team coming together and connecting the dots to come away with good results.
"Pito [Walton], I thought had his stick on the puck a lot tonight. He's a guy in a game like this you need to have the puck on his stick to give you the low-to-high," said Keefe. 
With week-to-week statuses for each injury respectively, Northeastern will need to quickly fill the gaps and build chemistry around them in order to break this losing streak going into more conference play next week against UMass.
"When you're not scoring goals, you can't give up anything easy. It's one thing if you're not scoring goals to just go out and focus on offense, but I'm not sure that that's the answer," said Keefe. "We've got to be able to win a tight game right now…We're going to stay positive and have a good week of practice."