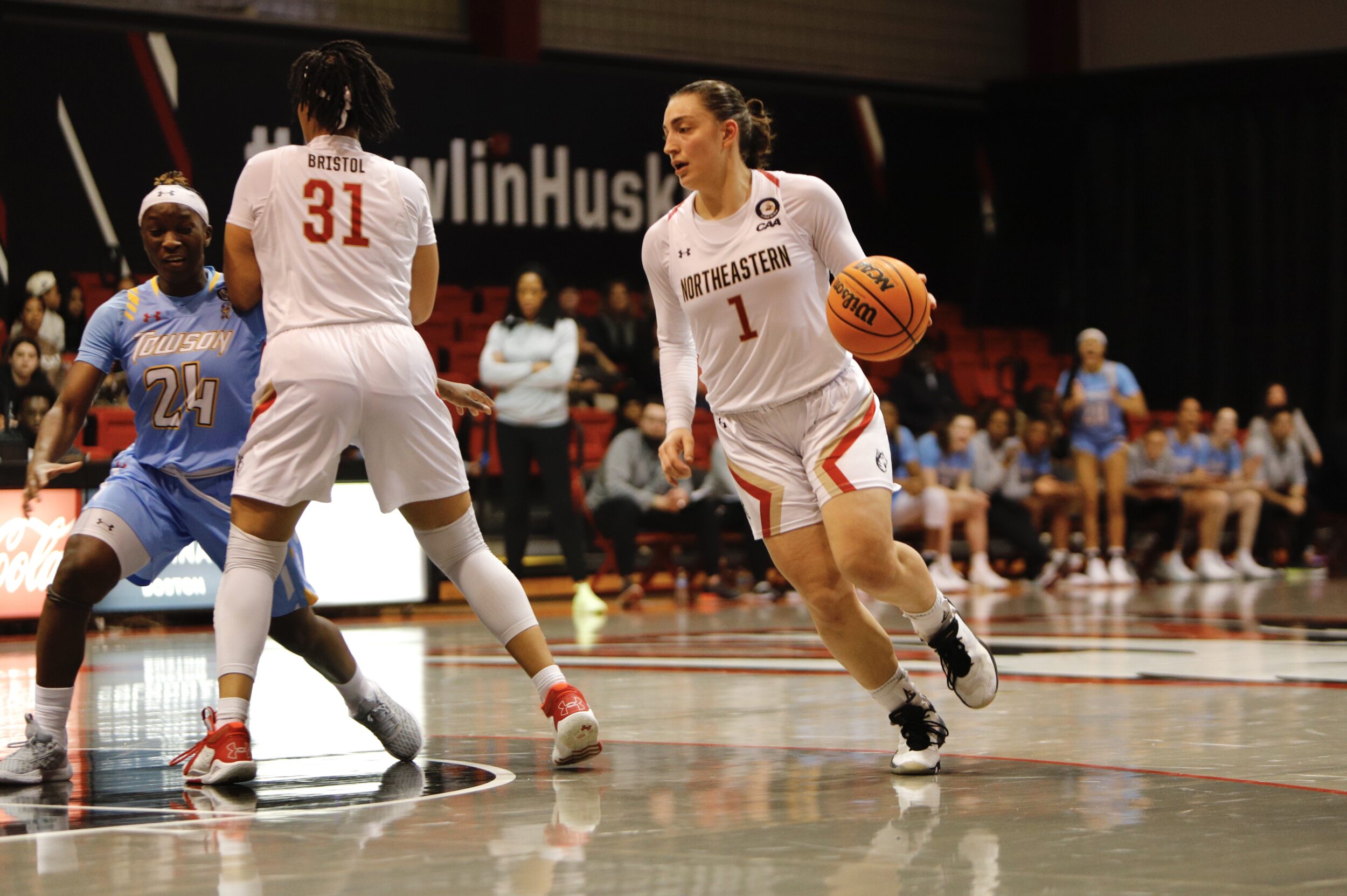 The news in April that former Northeastern women's basketball head coach Bridgette Mitchell would be leaving to take on the same role at Fordham might have been surprising — only because it seemed a year or two earlier than expected.
Mitchell's two-year tenure with the Huskies solidified her as a rising star in the coaching world, as she used the transfer portal to overhaul the Huskies' roster and lead the team to its first-ever share of a CAA regular season title, which earned her CAA Coach of the Year honors. While last year's postseason dreams were ended by Monmouth in the CAA semifinals, much of Northeastern's roster is returning this year, ready to run it back under new head coach Priscilla Edwards-Lloyd.
With proven CAA talent and rare levels of continuity in modern college basketball, the expectations for Northeastern's season are clear — be the team that cuts down the nets at the conference tournament in D.C. This roster represents one of the best opportunities in years for Northeastern to do just that and play in the NCAA tournament for the first time since 1999.
"I've learned that this is a pretty resilient group. They've undergone a lot of changes, whether it's with the coaching staff or even, last year, a good majority of them were newcomers," said Edwards-Lloyd at CAA Media Day. "Their willingness to accept a new coach coming in and putting in what my philosophies are, they've been really accepting of that."
Like Mitchell, Edwards-Lloyd was an assistant coach at an Atlantic Coast Conference school with no collegiate head coaching experience prior to joining the Huskies — most recently serving as an assistant at Clemson for two seasons. Despite the coaching change, Edwards-Lloyd is inheriting all but three players from last season's team.
One factor in the lack of transfer movement is likely the NCAA decreasing its lenience in approving waivers for second-time undergraduate transfers, specifically stating that a coaching change would not be a valid reason for a waiver to play at a new school without having to sit out a season. This means that players such as guard Derin Erdogan, forward Deja Bristol, and forward Halle Idowu — all seniors who transferred to Northeastern from other schools — would not have been guaranteed to be immediately eligible at a new program had they opted to transfer following Mitchell's departure.
Possibly a bigger reason for the roster stability, though, was the bond the players have on and off the court, which has allowed them to easily transition to the new regime and build immediate credibility in Edwards-Lloyd's program.
While most players have returned, the team's biggest departure is guard JaMiya Braxton, who finished third on the team in scoring with 9.9 PPG last season as a graduate transfer, and along with Erdogan took the bulk of the Huskies' three-point attempts. Also leaving are forward Izzy Larsen, who played all three of her collegiate seasons with Northeastern, and guard Anna Boruta, who transferred to Stonehill after four years with the Huskies.
Erdogan, who was named to the Preseason All-CAA First Team, may need to pick up even more of the slack from beyond the arc with Braxton gone, although she has been focused on improving all facets of her game during the offseason.
"I'm kind of like a three-level scorer," Erdogan said. "I think the conference knows that, but I know I've got to improve my right hand or the little things that I've been not doing … I know I have more opportunities to score from the pull-ups in the pick-and-roll action, so I'm just working on the things I'm not the best at yet."
Outside of Erdogan, it's an open question as to who else can step up from deep. Junior guard Camille Clement has been a three-point specialist for Northeastern (more than 70% of her field goal attempts last year were from beyond the arc), but she averaged under 11 minutes per game last season. Another wild card is senior guard Maddie Vizza, who set the school record for best single-season three-point percentage (44%) with the Huskies in 2020-21, but has missed much of the past two years recovering from an injury.
Erdogan wasn't the only Northeastern player to earn a CAA preseason honor — junior guard Gemima Motema was selected to the Preseason All-CAA Second Team. Motema is coming off of a sophomore season in which she continued to excel on both sides of the ball, driving to the basket and generating steals, and all indications are that she will continue that strong play and again contend for a spot on the postseason All-CAA and All-Defensive teams.
Another player with solid interior offensive play and strong defense is fifth-year guard Jaelyn Batts, who transferred from Boston College prior to last season and missed the entire fall semester, but integrated quickly and started the final 13 games of the season. Being able to play right away this year should be beneficial to Batts, the only Husky with four years of collegiate experience entering this season.
During Mitchell's time at Northeastern, and especially last season, she emphasized a fast pace of play, aiming to shoot the ball early in the shot clock and force turnovers to get fast break opportunities. If Edwards-Lloyd keeps this system in place, the roles should be similar to last year, with Erdogan running it from the point and players like Motema and Batts intercepting passes.
Probably the biggest roster question mark is how Edwards-Lloyd and the coaching staff will handle freshman guard Yirsy Quéliz, who led St. Mary's to back-to-back Division 3 Massachusetts titles as point guard in her junior and senior years. Quéliz appeared near the top of New England high school player rankings and was originally recruited by Mitchell, keeping her commitment when Edwards-Lloyd took over. Erdogan will be the lead point guard, but Quéliz and sophomore guard Marian Turnbull should get some minutes in secondary roles at the point. In fact, Edwards-Lloyd mentioned Erdogan being a mentor for Quéliz this year, saying that the freshman is "going to be Derin's understudy."
Looking more towards the post, Bristol, Idowu, and junior forward Asha Parker are all returning and will look to build on their performances from last season. Bristol is riding off of a campaign for which she was named CAA Sixth Player of the Year, coming off the bench and providing a huge spark of energy for the Huskies, especially through her celebrations after drawing charges. Idowu was a starter at the beginning of the year and transitioned to a bench role further into conference play, but she still got significant minutes and led the team with 5.7 rebounds per game. Parker started nearly every game at the center position and was a solid presence on the boards as well. It remains to be seen whether the new coaching staff will use the four-guard starting lineup that Mitchell used towards the end of last season.
The other forwards both stand at 6-foot-3, the tallest on the team: sophomore Oralye Kiefer and freshman Sophia Carlisle. Edwards-Lloyd had high praise for Kiefer and her awareness on the court based on what she's seen in practice, saying that "she has a really smart IQ and she knows everything in terms of where she should be and how to move." Carlisle, who played as a power forward and center at Bishop O'Connell High School in Virginia, brings height like Kiefer did last year and should get some depth minutes in her freshman season.
While this year's non-conference schedule does not have the baptism by fire against UConn that Northeastern experienced last year, there are still plenty of challenging opponents on the slate. The Huskies start the season by visiting Stonehill, the first of three Northeast Conference teams they will face this year (Merrimack and Wagner come to the Cabot Center later in November). Northeastern's home opener is against UMass, the defending Atlantic 10 Conference regular season co-champions, although they are expected to take a bit of a step back this year after losing a good amount of talent this offseason following a coaching change. The Huskies then travel to Chestnut Hill to face Boston College, after their near-upset of the Eagles at Matthews Arena last season.
Following Thanksgiving, Northeastern has four straight road games, first visiting Columbia, the defending Ivy League regular season co-champions and Postseason WNIT runners-up. The Huskies then play at New Hampshire before heading to Central New York to face Syracuse for the first time since 2010. After a break for finals week, Northeastern travels to Worcester to take on defending Patriot League champions Holy Cross, then hosts rival Boston University in a Friday matinee before the holiday break.
The Huskies open the conference slate by welcoming Delaware to the Cabot Center, one of five teams they will play home-and-home series against this season, the others being Hofstra, Elon, North Carolina A&T, and Stony Brook. That means that Northeastern will face CAA preseason favorites Towson just once during conference play — on the road on the last day of the regular season.
Other notable home CAA dates include the Huskies' Alumnae Game versus Charleston (Jan. 21), Northeastern's first-ever meeting with CAA newcomer Campbell (Jan. 28), a rematch of last season's conference tournament semifinal against Monmouth in a Boston Public School Day matinee (Feb. 9), and the Senior Day game against Hampton, where Batts and any other departing Huskies would be honored (March 3).
Edwards-Lloyd has high expectations and plenty of talent to work with in her debut season, and if her staff can manage all the pieces they inherited, Erdogan and Motema play at All-CAA levels, and the forwards build on their strong 2022-23 campaigns, the Huskies will be strong contenders to claim the CAA crown.
Northeastern visits Stonehill on Nov. 6 at 6 p.m. for their season opener. Matty Wasserman and Jordan Walsh will have the call for WRBB Sports+.