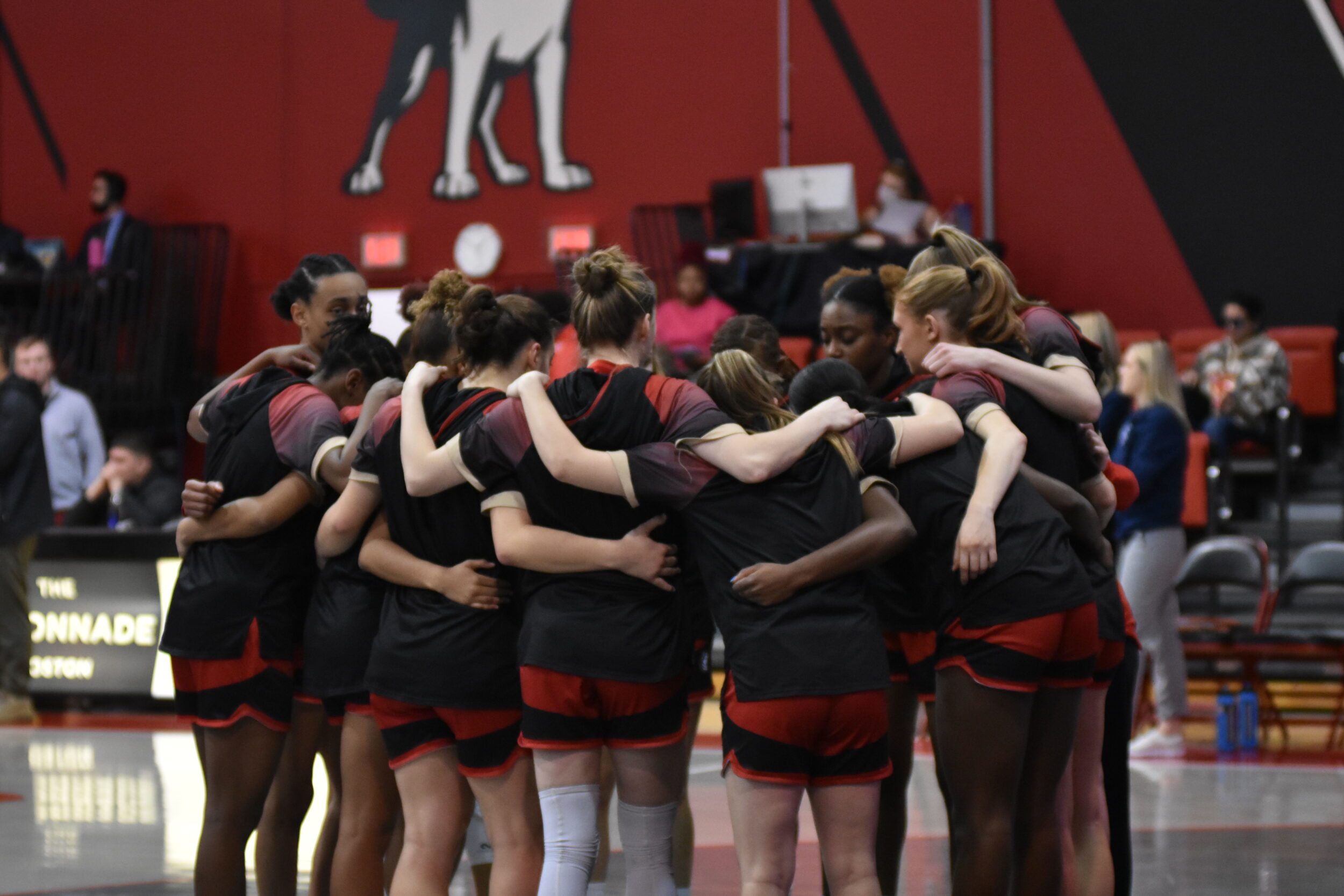 After 13 years as an assistant coach across four Division 1 basketball programs, and two years after she first applied for the Northeastern job, Priscilla Edward-Lloyd finally landed her first-ever head coaching role with the Huskies this offseason.
Edwards-Lloyd scored over 800 points over four years playing at St. Bonaventure, where she graduated in 2008. She spent time as an assistant coach at her alma mater, as well as St. John's, Providence, and most recently, at Clemson for the past two years.
The Huskies' program Edwards-Lloyd inherits is in good shape after the successful two-year tenure of Bridgette Mitchell — another former first-time head coach hired at Northeastern, who departed this offseason for the same role at Fordham.
WRBB sat down with coach Edwards to discuss her experiences and perspective over a lifetime of basketball, her long journey through the coaching ranks, and her vision for Northeastern's program under her stewardship.
This interview has been lightly edited for length and clarity.
WRBB Sports: Has it been strange adjusting to a smaller program at Northeastern, especially after your last experience at Clemson?
Edwards: I've been at all levels. In terms of just where I started, my first office at St. Bonaventure was in the closet. It was kind of retooled to be a makeshift office. So, I have experienced it all and I kind of knew what to expect in terms of just the differences of facilities and things like that.
Was that as a graduate assistant?
I was the director of operations for a year, and then became an assistant coach after that.
What made you want to go into coaching, starting from that point?
My senior year, I blew out my shoulder and it ended up being season-ending. So what went from "I'm going to crush it this year, and then I'm going to go play pro," turned into a year and a half of rehab and never quite feeling like I was 100%. And so, Coach [Jim] Crowley actually brought it up about thinking about coaching. In that year I was redshirting, he had me pretty much show our backup point guard, who was going to be the starting point guard, everything — Whether it was watching film or whether it was sitting in on coaching meetings.
Now I know he was very strategically exposing me to coaching because he would always say he thought I'd be a good coach and I was kind of like 'coaches are crazy, I'm not doing that.' But after playing my redshirt year, my fifth year, I didn't really feel 100%, so overseas was not really a thing. And, he had an opening in his ops spot, the director of operations, but he knew he was going to use it more in a basketball sense as well. That was kind of my introduction to coaching and the year after that I was on the staff as an assistant.
Did you ever think maybe coaching wasn't for you?
Yeah, when I was playing, I was thinking about how wacky I thought coaches were, but once I started coaching, I knew for sure it was what I wanted to do. Really once that redshirt year when I had to look at the game in a different way and help my teammate to kind of absorb everything in a limited amount of time. I started to feel like, man, maybe coaching or influencing or helping in that way was something that I would continue to do.
What was it like growing up playing basketball in New York City?
It's like a cultural experience. I definitely will say basketball culture in New York City is unlike any other just because it's everywhere, and it's done. It's so much more of an experience than it is just basketball. We moved to Harlem when I was in third grade and I was bored a lot. So it was just kind of like "alright, what are we gonna do?" I ran track. I was like, "not really my jam." But I would go outside, and I would just see everybody playing basketball. I would go to Rucker Park, I would go to West Fourth Street, I would go to pretty much any basketball court in the vicinity of my home. There would be these intense games going on and there would be music and there would be people on the mic and there would be nicknames and their flash, and I was just like, "man, this is really cool."
So, I started playing out of boredom but I also started playing because of the cultural part of it. I wanted to get a nickname and I wanted to learn how to cross somebody up and I wanted to earn respect and, very quickly it became so much more of a cultural thing. All my friends played, and it was just how we spent our summers. If we weren't playing we were watching an intense game. We would hear Kobe would be at Rucker and it's just like, okay, we've got to get there at 9 a.m. to make sure we get good seats, and be able to experience some of the really amazing things that were happening in the city.
What nickname did you end up getting?
Snake. My AAU coach called me Snake because he said I was skinny, and I slithered to the hoop. I hated it but he just kept calling me it and before you know it, everybody would hear, and they'd be like "Snake," and they would start calling me Snake. And so it stuck with me all through junior high, high school, and college. To this day, people will see me and be like, "What up Snake?" and people who don't know me as Snake would be like, "What did they call you?" And I'm just like, "It's a city thing, don't worry about it."
Were there any basketball players you looked up to growing up?
Oh, man. I was a big Allen Iverson fan. I just thought he was so cool, in terms of just how he played, his dribble, his style, and he just was something that I had seen at that point. He very much reminded me of what I was seeing in New York City. So I was a big fan. I was a big Sheryl Swoopes fan. On the woman's side. I was a big Teresa Weatherspoon and Becky Hammon fan because they played for the Liberty, and so I drew inspiration from them. And then I was a big fan of local players that were really good.
Are there any coaches that you try to emulate?
I think we can draw inspiration from a lot of places, but I just try to coach the way I feel most comfortable and authentic. I love the fire and, really, the level of acumen that [Las Vegas Aces coach] Becky Hammon coaches with. You can tell she's drawn a lot of her experiences from when she played to when she coached the Spurs to you her experiences and has brought that to the aces. I think that's really cool.
What did you learn from your time coaching in the ACC?
A: That was probably the greatest experience, because it was the last experience that I wanted before becoming a head coach. That was part of the reason why I went there. Being able to work for a woman like [Clemson head coach] Amanda Butler was huge. She is a coach who I've known since I played. so getting an opportunity to learn from her and her experiences both in college basketball and also her experiences and connections to the NBA was something that I really was excited about. I also just knew with the ACC, you're going to get a chance to scout against and play against the best every single game.
There was not a game where you could just approach like, "Okay, I think we got this." You're scouting, you're learning and then you're analyzing Jeff Waltz and Niele Ivey and all these incredible coaches that are in the league, and you just pick up so much from a standpoint of how to gameplan or offensive and defensive strategy. I really enjoyed that time because I feel like I learned a great deal in a short amount of time.
How did you know you were ready to take the step up to becoming a head coach?
You can say that you're ready and roll with it and still acknowledge that you've probably never really ready. But I do feel like I got to a point where I said, "if the time is now I'm as ready as I'm going to be and I'm going to make sure that I continue to ready myself in that process." So I felt like I was as ready as I was going to be from a tactical standpoint, and making sure I had experiences at all different levels. Just from playing, and then getting into coaching, it's like 15 plus years of college basketball.
Were you looking at other head coaching openings besides at Northeastern?
It was an interesting offseason, from that regard of just figuring out what was next. It's crazy how it goes. Sometimes you go from hunting or exploring and then you're hunted and people are exploring with you. I knew I wanted to make sure I found a good fit for me as a first opportunity. And I wanted to make sure that I was going to go somewhere that felt right and checked a lot of the boxes that I felt I needed to be able to hit the ground running.
What made this situation feel right?
So, I actually wrote a list of schools that I would have loved to have a first opportunity at as a head coach, and Northeastern was one of those schools and I jokingly said in the press conference that I knew that Northeastern was the place two years ago when I first pursued the job and didn't get it. But you know, it's just a matter of timing. And so, when the opportunity came around again, and they reached out to me, I knew that it was a place that I had already identified as a place I would want to be.
Just being in Boston, and the academic institution that it is, I knew that it would be a place that recruits would be excited about from an academic opportunity, but then also from an athletic opportunity. The program has undergone some changes in a positive direction, and it's a place that players get excited about not just because it's a good school, but also because it has a good athletic program too. You're saying you can come and have a great education and athletic experience in the heart of Boston. That's a pretty cool thing to most young women.
How are you liking Boston so far?
I love it minus the traffic. I've been hopping on the train now so that's great. I just really love the vibe of it. It's more my speed. The South was a little slower, which wasn't a bad thing, but it wasn't my thing necessarily. I just love being back in a place like here that has just so much diversity, so much energy, and it's just a really cool place to be.
How did you decide to put the rest of your staff together?
I prepared potential staffs for the different places I was looking at, and when I knew it was Northeastern, I knew exactly what I wanted. They all individually came from some level of success themselves and winning and so they understood what that looked like from a standpoint of being a part of high-level programs.
You look at people like Coach Spin [James Spinelli], who's coming from Notre Dame, and the experience that he brought also from the ACC, and he was in the video side of things, but he had experience being around it, absorbing it. Coach Ugo [Nwaigwe-Hirschman] was actually with Coach Spin at Temple at one point. When he was on staff, she was a player. So there was a connection there that I didn't really know until after the fact, but she spent time at Iowa, another elite program, as a director of operations. Coach [Whitney Edwards] was coming from being a head coach [for three years at St. Rose College], so she was gonna bring that perspective of having that experience. But also she's been here before [for three years as an assistant from 2018-2020], so she understood the landscape of Northeastern academically and athletically. Then [Director of Operations Nicole Ambrose] has a background being at Louisville, another elite program, another elite coach, and another elite mindset that she was coming in from. She had experience as an assistant coach, and even though I know she is in the opposite role here, I knew she would be able to be another coach who would be on the floor, but also has a really really sharp mind organizationally. She knows how to make a program operate at a really efficient level.
How has your experience with the team been so far?
It's been great. They're a really fun group and they're a really bright group. On my first day meeting them, we spent a lot of time just talking about what it is that they wanted from a coach, and what they wanted the year to look like. They shared a lot about wanting to be connected. They shared a lot about wanting to build trust that they felt would carry onto the court. They spent a lot of time saying how they want to do some big things this year. They knew the things that kept them from it last year, and they were willing to work at those things to try to get back to that same position.
They've been a really hungry group. They've been a group that's experienced a lot of change and transition in a short period of time. And so, whenever you have something like that it can be really difficult to build the trust and get to that point where you can coach them really hard. And I have to say that they've allowed us to come in and coach them right away. They've been really willing and they work really hard and so I think that's always a promising thing. Even on the days where practice isn't great, they're giving their best effort, they're acknowledging it, and they're being honest about where they are. It's something that comes with having an older group, but again, the newness factor of it, when you add that to it, and what we're trying to accomplish in a short period of time, I've been really, really excited about how they're handling it.
How is recruiting going?
The first recruiting event was just myself, so that was a little interesting before we got the staff rolling. Once we were able to get everybody assembled, we got a chance to get out and really hit the ground and see as many recruits — especially younger prospects — as possible and we had a lot of visits in the summer. A lot of kids came through and checked us out.
We're really trying to introduce recruits, especially locally, to what we're doing here and even recruits or coaches that have been here before. We invited them back to see how things are different because there is a difference in staff and there's a difference in energy and what we're trying to build. We do so to get the feedback from a lot of the coaches and the kids who maybe have been here in the past and say, "Well, Coach, we're so glad we came it's just so different seeing and being able to see what you're doing." We're trying to get them really excited about Northeastern and what we're building here.
The Huskies will open their season Monday, Nov. 6 at Stonehill College, and their first home game will be the following Thursday against UMass Amherst. WRBB will have both live radio and written coverage of Northeastern women's basketball throughout the season.