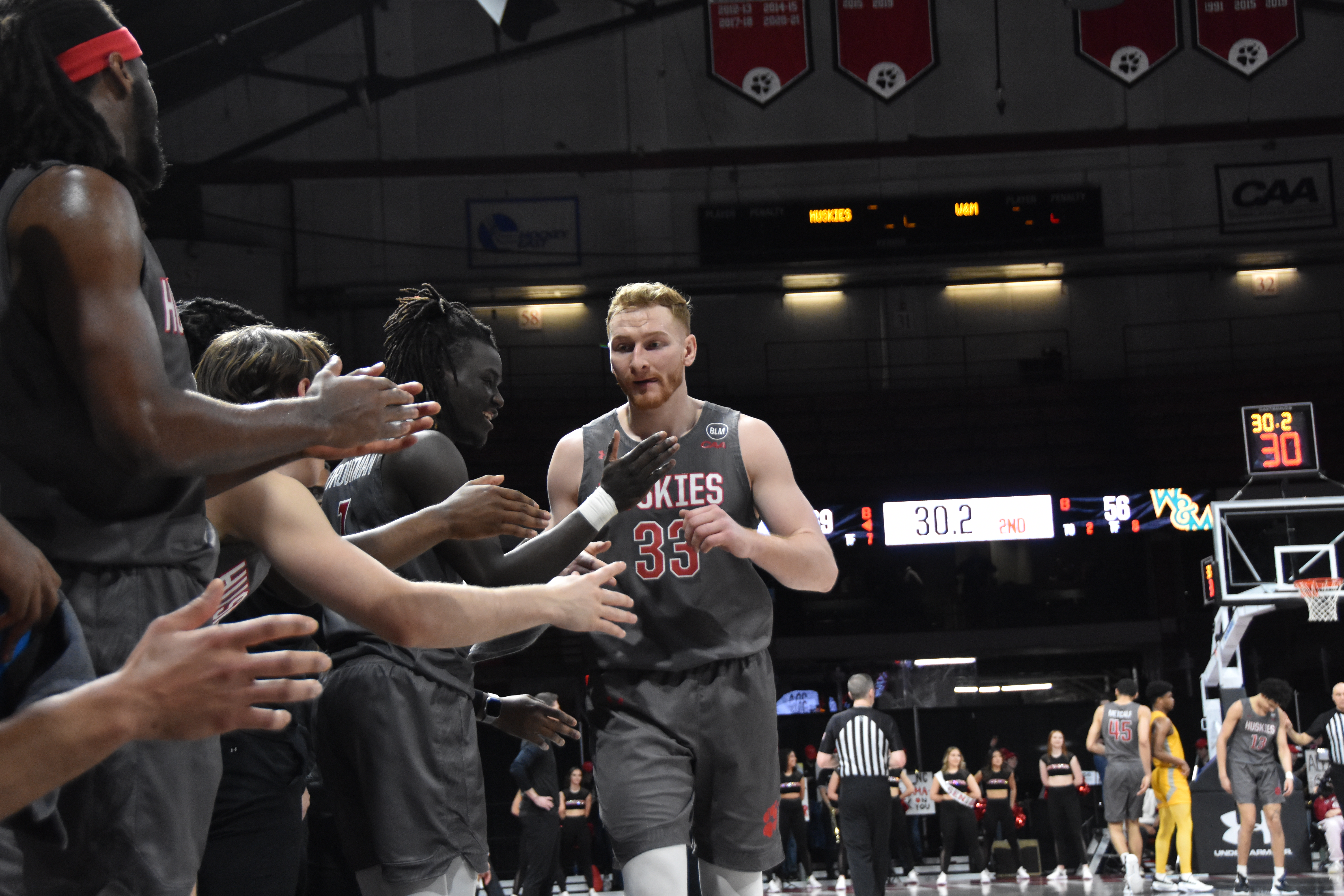 It has been a rough few years for the Northeastern men's basketball team.
After a period of great success between 2017 and 2021, including two regular season CAA titles and one trip to the NCAA tournament, Northeastern backslid dramatically in 2022, posting a 2-16 record in conference play and marking the clear low point in head coach Bill Coen's tenure at Northeastern. Despite sweeping roster changes, 2023 wasn't much better, as the team went just 6-12 in CAA play and won only one more game than the 2022 squad overall.
Now, three seasons removed from the glory days of Vasa Pusica, Jordan Roland, and Tyson Walker, Northeastern is still searching for answers. Northeastern's roster has more to love than the dregs of the CAA, but they also have clear holes and a lack of proven star power. As a result, the Huskies placed seventh in the preseason media poll, a solid 31 points behind Delaware and Towson, who tied for 5th and represent the last of the CAA's true title contenders, and just ahead of middle-of-the-pack CAA teams like William & Mary and Stony Brook.
Starting from the top, Northeastern's top question remains the same as the last two years — who will facilitate the offense? Coen's best Huskies teams have always been led by an All-CAA level point guard. From Chaisson Allen to Jonathan Lee to TJ Williams to Tyson Walker, the Huskies have been at their best with a great floor general calling the shots. In fact, Coen's Huskies teams have had a guard average three assists per game or more every one of his first 14 seasons except for one (which was, not surprisingly, a losing season). However, Northeastern has failed to produce such a player each of the last two seasons.
Adding an additional wrinkle to the Huskies guard problem is the team's departures. Last year's greatest bright spot, the junior year resurgence of Jahmyl Telfort, kept Northeastern afloat and bought them an occasional win as a one-man offense, such as his masterful 31 point explosion in a win over North Carolina A&T. But as is now the norm for mid-major basketball, Telfort's All-CAA second team season earned him a golden ticket to the Power Six, an opportunity which he seized by transferring to Butler in the Big East.
While Telfort was not a point guard, he did lead the Huskies' guards in assists per game at 2.2. Another potential point guard option, highly touted freshman Chase Cormier, also exited the lead guard conversation via the portal, transferring to Wofford. After the dust settled, the top returning facilitator, rising senior Glen McClintock, averaged a mere 1.4 assists per game last season.
McClintock, the longest-tenured Northeastern guard, is certainly in the mix to lead the offense again this season, but the list of other options are intriguing. Coen's first foray into the portal this offseason returned Harvard graduate transfer Luka Sakota, who the Huskies recruited back in 2018 before he chose the Crimson. Sakota brings some point guard experience from his time in the Ivy League, and averaged two assists to go with 11 points and 3.5 rebounds in his best season, 2021-22. However, he had a down year last season, with his per-game averages dropping across the board and his shooting percentage cratering to 34%. Sakota may be a better fit as a veteran shooting guard, but that will require someone else on the Huskies to step up and boot him from the point guard spot.
One of those other players vying for those minutes is Rashad King, one of five rising sophomores from a foundational class of six Coen put together before 2022 (Cormier was the lone player from the class not to return for 2023). King flashed his talents at points last year, including a box score-stuffing seven rebounds and five assists in the Huskies' best win of last season, a December triumph at Davidson. He also performed admirably on the defensive side of the ball. But like all the freshmen, he lacked consistency and failed to score efficiently. Should King take a step forward, he might possess the highest ceiling of all of Coen's point guard options.
The final point guard options are two wild cards — freshmen William Kermoury and JB Frankel. Kermoury comes to Northeastern from Sweden's professional basketball league, while Frankel followed a more traditional path to Huntington Avenue, attending New Hampshire's Brewster Academy. Both possess point guard experience, including Kermoury's impressive statlines from international FIBA competition this summer. However, it is hard to imagine either jumping into a large role right away with so many more experienced options available..
At the shooting guard position, the Huskies have two more now-sophomores from that 2022 class, Masai Troutman and Harold Woods. Troutman is a candidate to make a big leap in year two, given he arguably possesses the best raw athleticism than on the team and led the freshmen in scoring at 6.3 points per game last season. A leap in consistency could cement Troutman as a starting lineup fixture and maybe even the heir apparent to Telfort as the lead scorer from the 2-guard position.
Woods' quality defense made him a starter for a time last season, but he will need to increase his offensive input in order to get minutes in a sea of guard options. If he improves his shot, he could still be a surprise impact player.
The guard position is rounded out by two similar players: sophomores Jared Turner and Kyle Squires. Both Turner, who played for Northeastern last season, and Squires, who redshirted at Lafayette, are 6' 8" and reliant on their 3-point shooting. Turner especially displayed his ability to shoot at an elite level last season, putting in 48% of his attempts from distance.
The Huskies have a lack of proven shooters, putting a lot of weight on the shoulders of Turner and Squires to space the floor by becoming shooting options that strike fear into opposing defenses. Turner especially could represent Northeastern's best chance to find a star player on their current roster; if he can improve inside the arc and on defense, a 6' 8" sharpshooter is something special in the CAA.
On the forward side of the roster, Northeastern features another pair of similar players in returnee Joe Pridgen and newcomer Bryce Johnson. Pridgen, once a star portal acquisition himself, has struggled to reach the scoring and efficiency heights of his freshman and sophomore years since joining the Huskies due to a barrage of injuries, shooting just 39% last season. One thing he has never lacked for is rebounding ability at 6' 5", painting his magnum opus against Monmouth last February when he grabbed 19 rebounds, including seven on the offensive glass. This rebounding prowess gives Pridgen a high floor, but his 12 points per game on 56% shooting as a sophomore at UNCW and incredible 17 points per game on 56% shooting as a freshman at Holy Cross give him a tantalizing ceiling. Perhaps health is all Pridgen needs to reassert himself as a dynamic offensive weapon.
Johnson, who comes to Northeastern by way of Sacred Heart, is also an elite rebounder and efficient scorer, grabbing nearly 8.5 boards per contest at just 6' 6" to go with 10 points on 50% shooting. However, Johnson will need to prove he can continue to produce effectively in this role after making the leap from the NEC to the taller and higher-level CAA. If he can, a duo of rebounding threats from the forward position may help the Huskies mitigate one of their weaknesses: a lack of height at center.
Northeastern will run it back this year with the same three center options as last year: grad student Chris Doherty, senior Alexander Nwagha, and sophomore Collin Metcalf. Doherty had a disappointing, injury-hampered campaign last year after a breakout junior season, but still figures to be the starter. Doherty represents the Huskies' most consistent source of high-efficiency offensive production, shooting 54% last season while also making smart passes and leading the team in assists per game among qualified players at 2.3. However, he has continued to struggle with getting into early foul trouble, forcing him out of long stretches of games; he averaged only 24 minutes per contest last season. He is also the Huskies' shortest center at 6' 7".
Nwagha, who is a better rim protector and defensive rebounder than Doherty and stands 6' 8", has thus far failed to provide anything on the offensive end in his career. Nwagha figures to back up Doherty and provide steady defense when he gets into foul trouble. Finally, while Metcalf is Northeastern's tallest player at 6' 9", he seems unlikely to force either Doherty or Nwagha down the depth chart this year.
Despite the lack of height at center, one thing the Huskies bring to the table in spades is height across the rest of the roster. Every player on the team, with the lone exceptions of Frankel (who may redshirt or close to it) and McClintock, is at least 6' 5". This makes Northeastern a uniquely equipped defensive team for the CAA. This exceptional length, combined with the rebounding prowess of Pridgen and Johnson, lends credence to a rebounding-by-committee approach that could also pay big dividends. The Huskies will need this potentially elite defense and rebounding to come to fruition quickly to make up for what is sure to be some growing pains in the scoring and passing departments.
Overall, Northeastern is a team with a wide range of outcomes. If the sophomore class fails to develop, the freshmen don't provide anything new, and players like Doherty, Sakota, and Pridgen don't bounce back from down seasons, the Huskies figure to be near the bottom of the CAA once again. But if a few players make a leap and things gel with a legitimate point guard at the center of it all to run Coen's system, NU could have a deep roster and return to being a competitive team in conference play. But unfortunately, with no returning star power, Northeastern will need a few truly exceptional year-over-year leaps to emerge as a top-flight CAA team yet.
As usual for a Bill Coen-led team, Northeastern will have a strong non-conference slate to construct a battle-tested rotation for the games that really count. After kicking things off against BU as is tradition, the Huskies remaining 13 non-conference games include only one (a December tilt against Central Connecticut State) against a team that is more than 11 spots behind NU in the KenPom Division I basketball rankings, while the Huskies begin the season ranked 225th. Highlights for Northeastern include rematches against Ivy League foes Harvard and Princeton, both of whom beat Northeastern by one possession last season, a battle with perennial America East champion Vermont, and two Power Six matchups with Seton Hall and Virginia.
In conference play, the Huskies drew a relatively favorable schedule, mostly free of extreme travel (besides one mid-week trip to Campbell in North Carolina) and with Hofstra, Stony Brook, Elon, Monmouth, and Towson being the five CAA teams they will play twice. As usual in the CAA, all teams will qualify for the conference tournament in Washington DC, with seeding and byes determined by conference play.
After two years of turmoil, Coen has the ingredients in place to build another winner on Huntington Avenue. Northeastern needs a lot of things to go their way to reach championship gold this season, and tripping and falling to the bottom is far from impossible. But this year's team provides cause for optimism that Coen and the Huskies can get their horse back in the race for the CAA crown.