By Breanna Adel and Emma Sullivan
BOSTON — Friday is not Northeastern's favorite day of the week to play.
After splitting their home-and-home set last weekend against Holy Cross, dropping the opener 1-0 in OT at Matthews Arena on Friday before winning on the road after, the Huskies were desperately looking to make it two wins in a row and get their first on home ice in nearly a month.
Spoiler alert – that didn't happen.
For the fourth Friday in a row, Northeastern suffered a shutout loss — this time in a 3-0 defeat at home against UConn.
"I feel like a broken record," said Northeastern head coach Dave Flint after the game. "We did some good things. We had some chances. They're a really good team that doesn't give you a lot of grade-A chances. But I felt like we created opportunities. That's been our story all year – we're not scoring goals."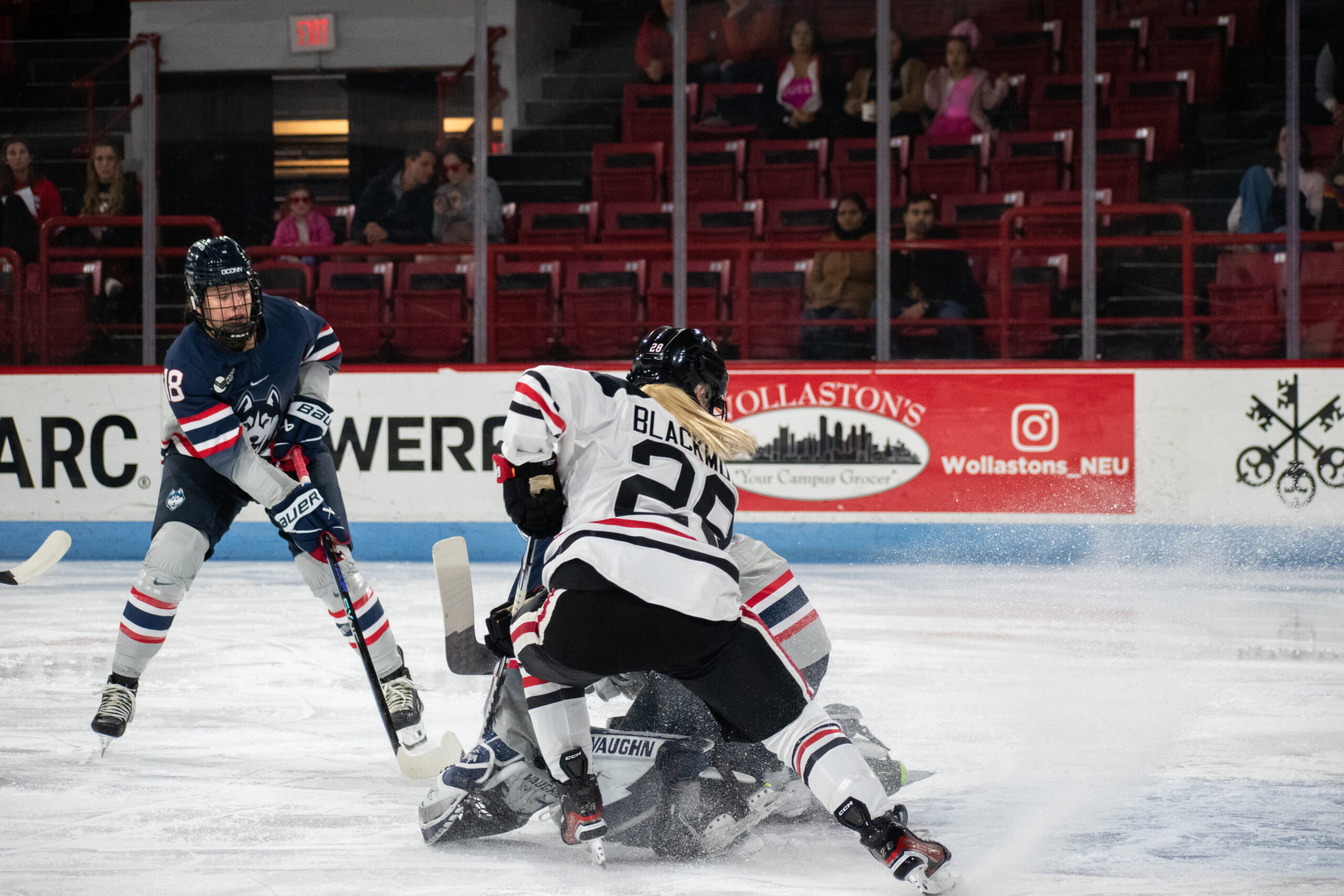 To start the game Northeastern spent substantial time with the puck on their sticks, which resulted in a few chances within the opening five minutes.
After that however, things started to go downhill.
Around the six-minute mark, UConn won their first faceoff of the night, and suddenly, they were in control. On a resulting breakaway, UConn's Jada Habisch was able to bury the puck into the net, putting UConn in the lead.
After the goal, Northeastern spent a lot of time playing catch-up and trying to regain their opening rhythm. In the remaining time in the first period, they had two, scoreless power plays, continuing a season-long trend of not taking advantage of the opportunity presented.
The second period started with a bang. The Northeastern Huskies seemed like a whole new team, taking four shots in the first two minutes of the period.
But then again, things started to fall apart for Northeastern.
Megan Carter was sent to the penalty box for tripping, creating a power play opportunity for UConn. With eight seconds left in the penalty, Brianna Ware was able to score, leaving Northeastern trailing 2-0.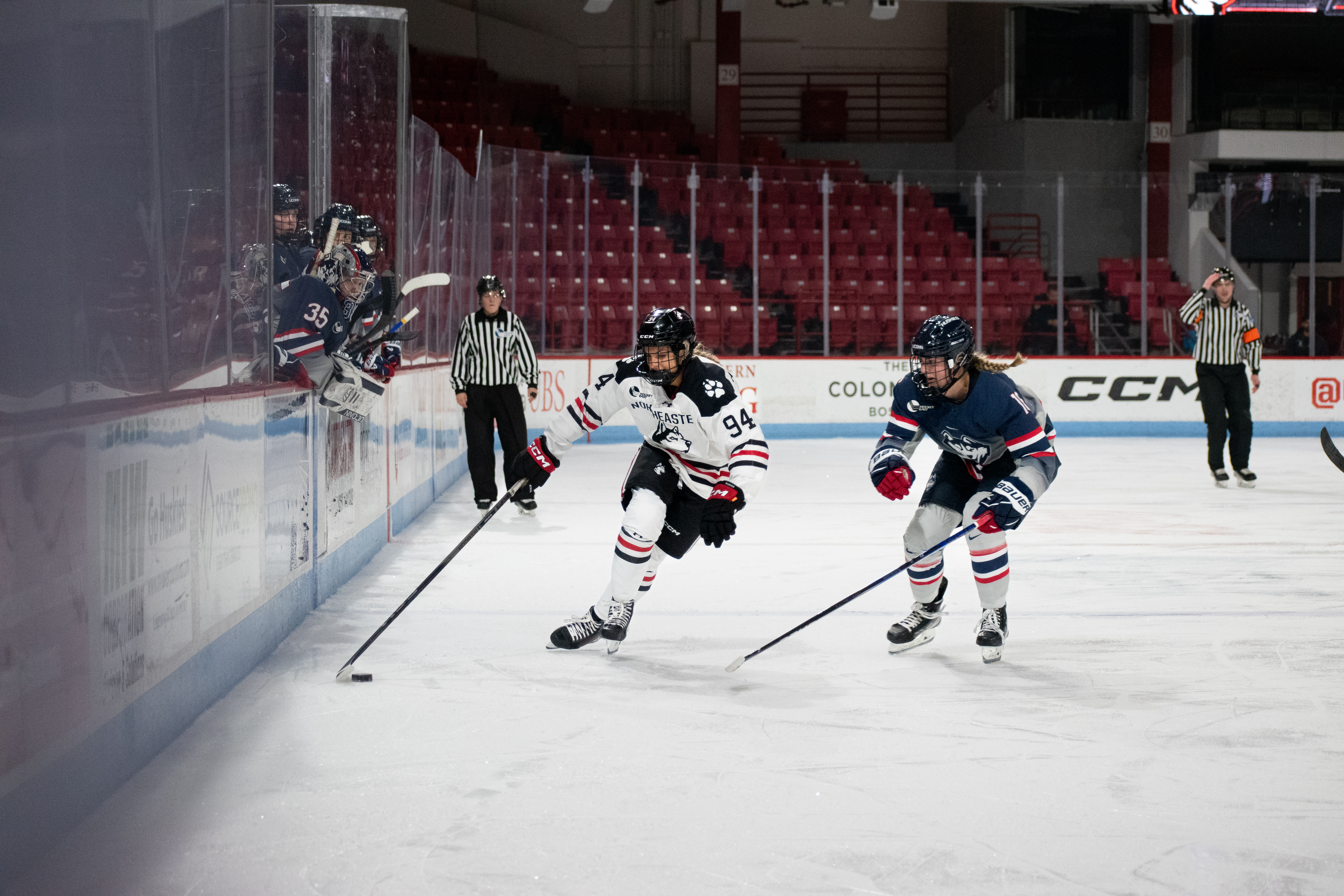 It marks the third straight game that Northeastern has given up a goal while on the penalty kill after not allowing any in their first nine games . It also coincides directly with their power play going stagnant — since Oct. 7, they've gone just 1-for-23, with the lone goal being an empty netter.
On Friday, the coaching staff opted to switch things up on their top power play units, swapping junior forwards Taze Thompson and Skylar Irving out for sophomores Holly Abela and Lily Shannon. Those changes didn't solve the Huskies' power play woes however, as they managed just one shot over four minutes of time with the extra skater.
It's not just the power play where Northeastern offensive struggles are highlighted; 5-0n-5 play has been their downfall so far, averaging only two goals per game in 2023-24, down from 3.8 last season. For Flint, it's still just a matter of finding a combination of players that clicks together in the offensive system they have in place as a whole to get their scoring back up to speed
"You can give any team any systems and be successful," Flint said. "It's the execution and our execution is inconsistent. And then on top of that, we're not taking advantage of our opportunities. So I can throw any system at them, but if you can't put the puck in the net it's tough to win a game."
The second period ended with both Huskies going shot for shot, not scoring again, or in Northeastern's case, at all.
In the third period, Northeastern dominated the shots, taking 21 in the frame but weren't able to connect on any.
With three minutes left in the game, Northeastern pulled their goalie, Gwyneth Philips, in exchange for having an extra player on the ice.
But with three seconds left, UConn's Brooke Campbell was able to retrieve the puck from behind Northeastern's net and tap it into the open goal, adding insult to injury.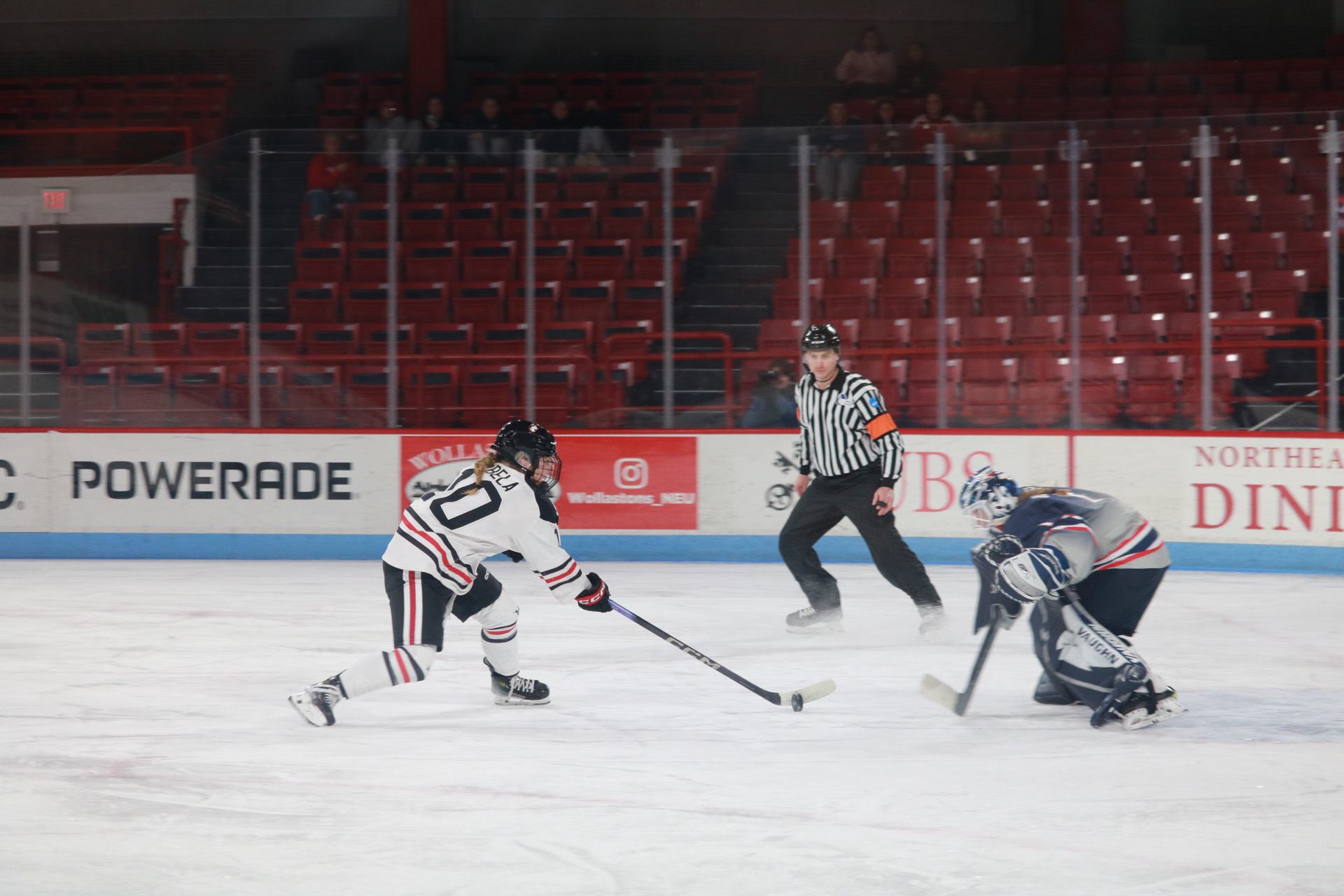 If there are any positives to be taken away from this game, it's that the younger players on the roster showed flashes of offense. By the end of regulation, Abela and freshman Allie Lalonde led the team in shots on goal with four apiece. Meanwhile, freshman Ellie Mabardy, playing in just her second NCAA game, received substantial ice time in the final frame, and deservedly so.
"It was nice to see Mabardy step up," Flint said. "I think we gave her one or two shifts in the first, and I told Nick [Carpenito], 'let's start getting her out there more because she's playing smart.'"
However, while the underclassmen stepped up in this game, it won't be enough if the veterans aren't playing at the level expected of them for the Huskies start winning on a more consistent basis.
"It's nice that they're stepping in and doing things," Flint said. "But we can't rely on them. Our best players need to be the best players, and right now they're not."
Northeastern will hope to get their best players back into form on Saturday as they get set for a rematch against UConn in Storrs, Connecticut. WRBB will have full coverage from Jack Sinclair and Zach Lyons at the Toscano Family Ice Forum when the puck drops at 6 p.m. on WRBB Sports+.