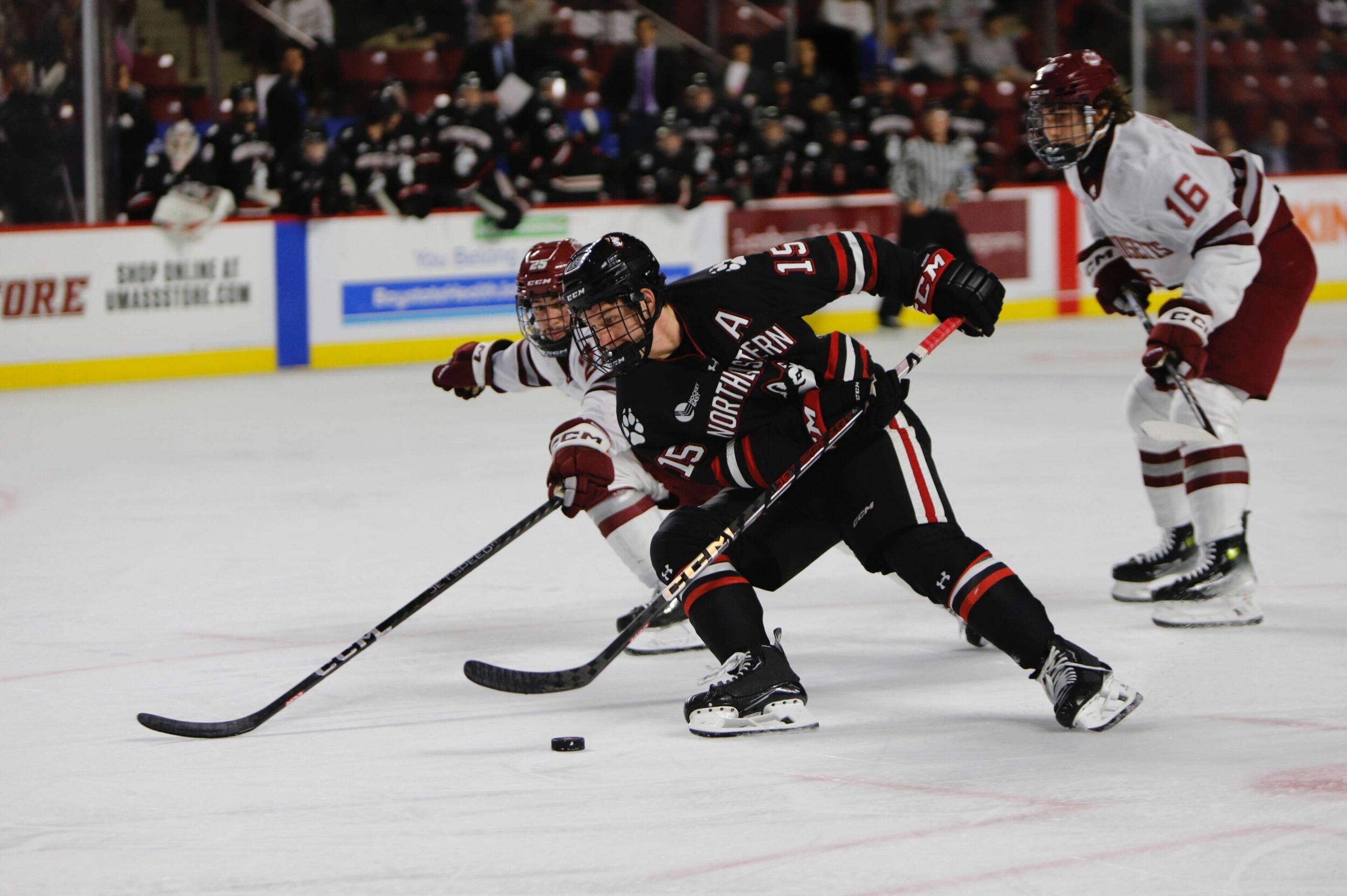 AMHERST — Seconds after Kenny Connors' game-winning wrister sailed over the left shoulder of Cameron Whitehead, Jackson Dorrington skated over towards the net to console his sulking freshman netminder.
As a jubilant celebration took shape across the ice, finding the proper emotion was difficult for the Huskies. Frustration? Helplessness? Relief, since it could've been worse?
The Huskies played with improved intensity and effort throughout Friday's contest, winning the shot battle 27-21 and generating far more odd-man rushes and offensive zone time than in either of their previous two losses. Whitehead kept the Huskies alive with stellar play in the third period, before Cam Lund delivered a thrilling game-tying goal in the waning minutes of regulation — a good sign of Northeastern's ability to claw back amid adversity.
But no matter the encouraging moments or improved process, the results were the same. Northeastern dropped to 0-3 in Hockey East with Friday's 2-1 overtime loss to UMass at the Mullins Center, and must reset with a home-and-home series against No. 7 Providence looming next weekend.
"Just really frustrated. Really frustrated right now," said Northeastern head coach Jerry Keefe. "Myself, and I'm sure the players too. This was a game that — you got to find a way to win these games. The effort was good, I don't know. You need a little bit more. You got to find a way."
In a battle of freshman goaltenders, Whitehead was very good for the Huskies, but much-hyped6-foot-7 Michael Hrabal was phenomenal for the Minutemen. The Huskies controlled possession at their offensive blue line and cycled the puck effectively for long stretches, but a combination of the Minutemen's 17 blocks and Hrabal's excellent recovery off rebound chances never allowed the Huskies to translate that success onto the scoreboard.
"It's funny how the games work, sometimes you think you play well and deserve to win. Sometimes you don't play so well and find a way to win. That was the case tonight," said UMass head coach Greg Carvel. "We didn't come out with much jump. Northeastern was a much better team in the first period."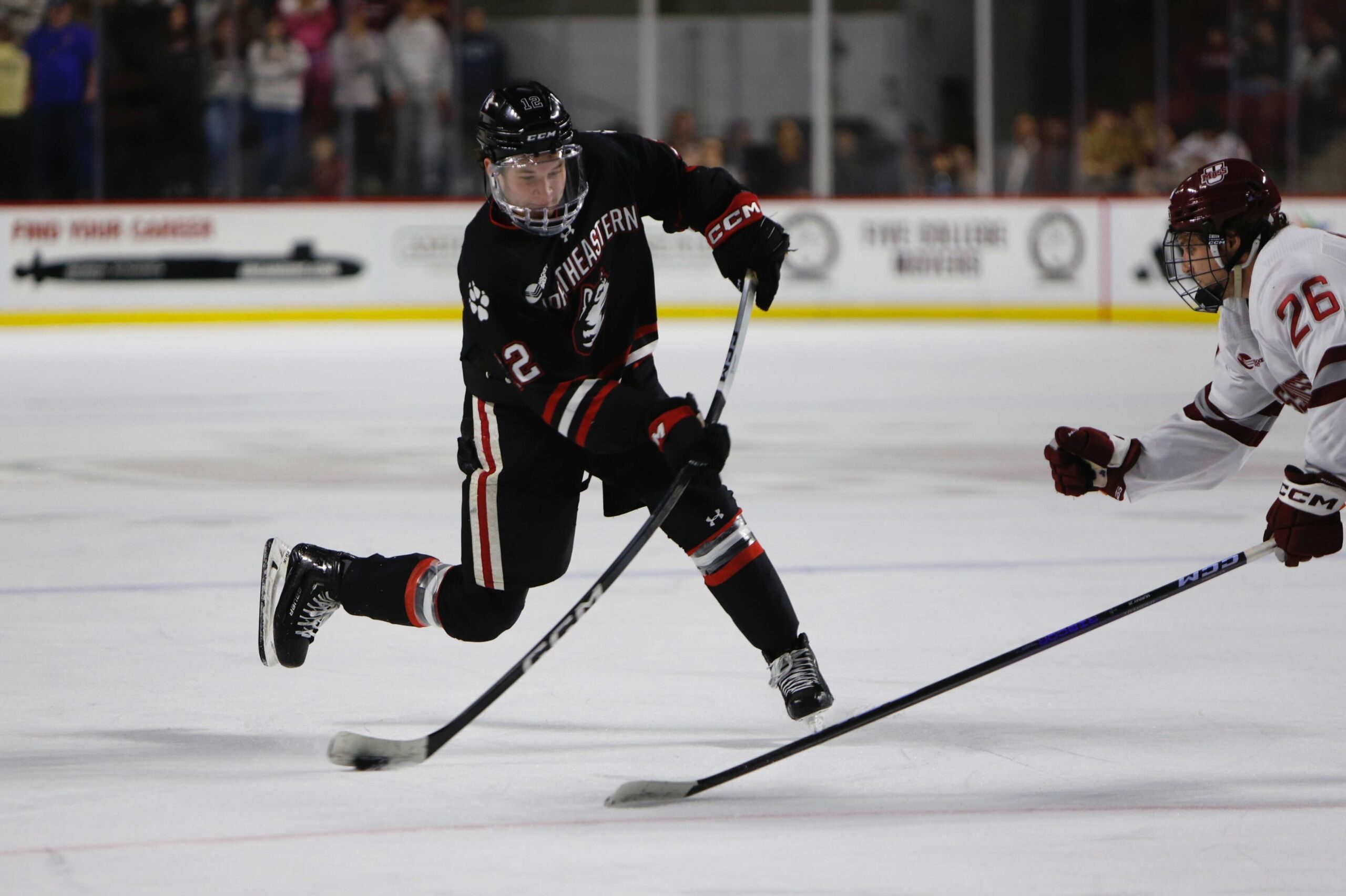 Just as the Minutemen finally clicked into gear with prolonged possession at 5-on-5 in the second period, their momentum was halted with two offensive-zone penalties in a three-minute span: First, a trip whistled on forward Taylor Makar, then a five-minute major and game disqualification for forward Ryan Lautenbach for a hit from behind on Michael Fisher.
With UMass' first-line winger ejected and five minutes of power-play time gifted to the Huskies — three minutes to close the second period, and another two minutes to open the third period — Northeastern failed to execute. They held possession for almost the entire first three minutes of the power play, but UMass' conservative, packed-in kill forced the Huskies to pass along the perimeter and never let them penetrate the low slot for Grade-A chances.
"I think the guys knew in the second period we were starting to get the cycle going, we were starting to get some chances," Carvel said. "And luckily that kill was basically split in half, so we kind of just had to kill two penalties, and I think it gave the guys life [once it was killed] because I think we did a pretty good job. I don't think we gave up much."
UMass finally broke through seven minutes into the third period, with defender Aaron Bohlinger trailing in on the forecheck and firing a one-timer past Whitehead's reach before he knew what hit him.
It was yet another example of the Huskies not playing badly, but just not getting the breaks or capitalizing on their chances — Northeastern failed to convert on seven minutes of power play time in an eight minute stretch, then proceeded to give up a go-ahead goal just minutes later.
"We come up empty [on the power play], and it gives them a little bit of life. And next thing you know we're doing everything we can to tie a game up," Keefe said.
With the aggression amped up, the Huskies finally got the puck past Hrabal with just under two minutes remaining in the third period: Pito Walton's outlet pass set up a 2-on-0 rush for speedy forwards Lund and Alex Campbell — exactly who Northeastern would want on a breakaway — and after a give-and-go, Lund tapped it in for his second goal of the year.
Especially with first-line center and captain Justin Hryckowian missing his fourth-straight game due to injury, Lund stepping up in the big moments and anchoring the Huskies' offensive attack with improved puck control has continued to be among Northeastern's biggest positive early-season progressions.
"I think you're seeing [Lund] now starting to get that mindset of taking games over. He wants the puck on his stick all the time," Keefe said. "And there's times he's been a little unlucky scoring goals — Hopefully that one gets him going. It was a great play by Campbell there."
The Huskies controlled the puck for the early portion of overtime, but Connors ended it with a high-slot snipe just under two minutes into the frame.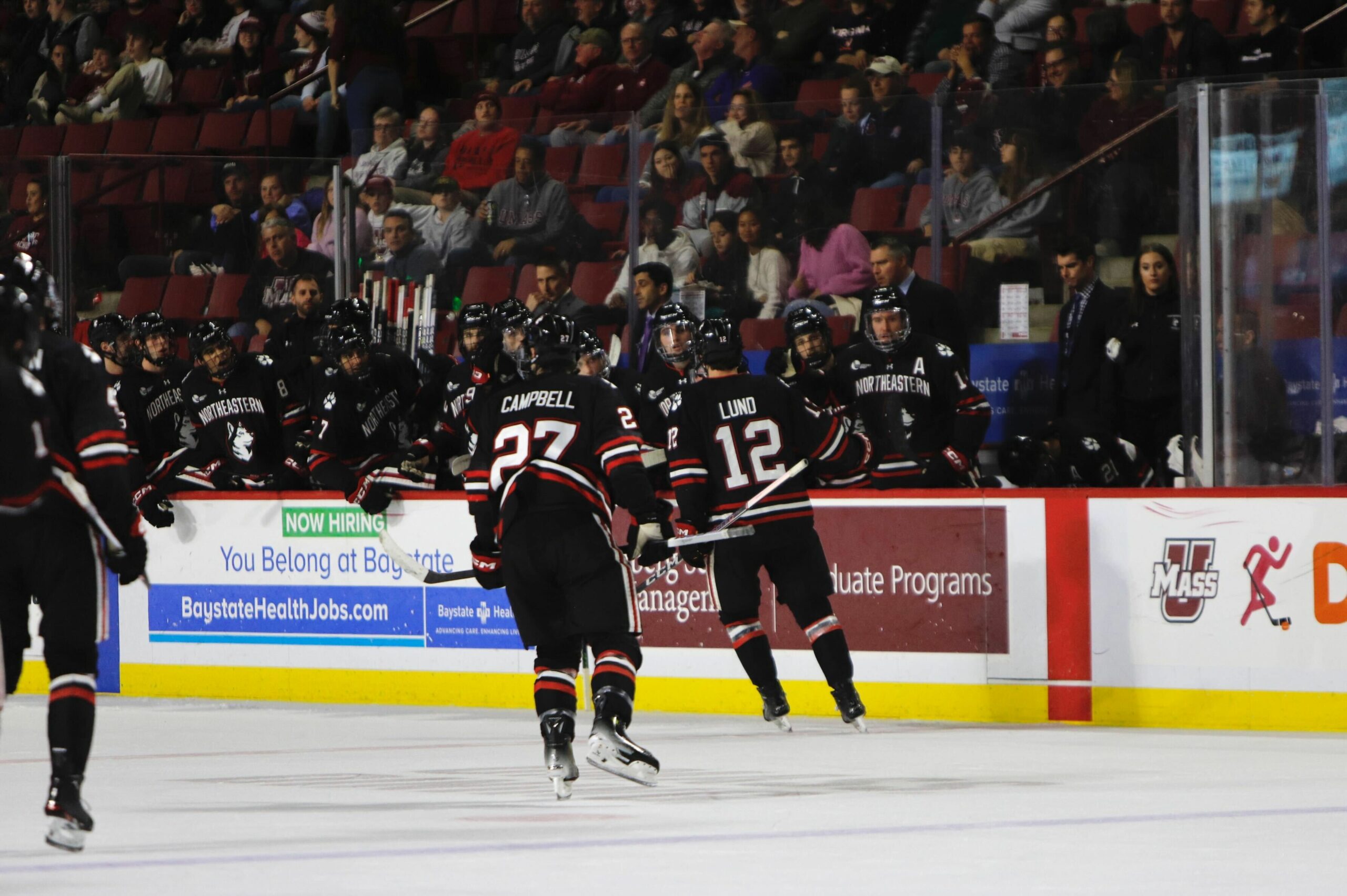 The lengthy injury absences to Hryckowian, star defender Hunter McDonald, and now middle-six forward Matt Choupani have created holes in the Huskies' lineup, but it just means the Huskies' top-end players need to step up more. Lund has been rising to the occasion, but Keefe needs his other top forwards to do the same.
"We need more of these guys to say, you know what? Cam Lund, 'I want to go be the best player on the ice. I can dominate.' Alex Campbell, same thing. Gunnar Fontaine, same thing. Jack Williams. These guys are capable of being high-end players, and we need them to find a way to say, 'let's put some guys on my back right now,'" Keefe said.
For now, the panic alarm is not blaring. Even with an injury-hampered lineup, the Huskies performed well against a solid Hockey East opponent in a challenging road environment. But with the league's incredibly deep pool of contenders, the Huskies' 0-3 start can very quickly become a hole that's too deep to climb out of.
Northeastern men's hockey resumes play next Friday night, when they travel to Schneider Arena to face Providence. Matty Wasserman will have live coverage for WRBB Sports.