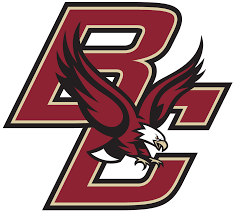 Last Season: 17–16–3 (14–11–2, fourth place conf.); lost to UConn in quarterfinal
Head Coach: Katie Crowley (14th season)
Preseason Poll Finish: Third
Departures: G Molly Barrow, F Erin Connolly, F Delaney Belinskas, F Bridget McCarthy, D/F Kate Annese, F Lindsay Agnew
Additions: F Natalie Tulchinsky, F Christina Klinoff, F Olivia O'Brien, F Caroline Goffredo, F Gaby Roy, F Cecily Hetzel, D Maddie Crowley-Cahill, D Sidney Fess, G Abigail Levy
While Boston College did lose five forwards this offseason, the team is adding six incoming forwards to fill their shoes. The team is also adding two defensemen and one goaltender, Abigail Levy, to fill the shoes of graduated goalie Molly Barrow.
Levy is a junior transfer goalie from Minnesota State who played over 2000 minutes her freshman year, but only about 1000 minutes her sophomore year. This decrease, especially without a known injury, could be the reason why Levy sought a spot elsewhere. Her strong goaltending could strengthen the Eagles' defense this year, and the addition of six new forwards will be crucial on the other wide of the puck.
The loss of Delaney Belinskas hurts, as she chipped in 20 goals and led the squad with a .142 scoring percentage. Lindsey Agnew's departure is a setback as well, depriving the Eagles of scoring and playmaking. Yet the Eagles are still strong enough to trail only Northeastern and Boston University in the preseason poll.
Bottom Line: The Eagles are losing some key contributors, and the team that remains is fairly young. But they remain one of the few teams that can challenge conference favorite Northeastern on any given night.